01-03-2011 | Uitgave 2/2011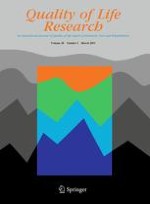 External validity of the pediatric cardiac quality of life inventory
Tijdschrift:
Auteurs:

Bradley S. Marino, Dennis Drotar, Amy Cassedy, Richard Davis, Ryan S. Tomlinson, Katelyn Mellion, Kathleen Mussatto, Lynn Mahony, Jane W. Newburger, Elizabeth Tong, Mitchell I. Cohen, Mark A. Helfaer, Anne E. Kazak, Jo Wray, Gil Wernovsky, Judy A. Shea, Richard Ittenbach
Belangrijke opmerkingen
This study is conducted for the PCQLI Testing Study Consortium Investigators. Other investigators for the PCQLI Testing Study Consortium are listed in the acknowledgments.
Abstract
Purpose
The Pediatric Cardiac Quality of Life Inventory (PCQLI) is a disease-specific, health-related quality of life (HRQOL) measure for pediatric heart disease (HD). The purpose of this study was to demonstrate the external validity of PCQLI scores.
Methods
The PCQLI development site (Development sample) and six geographically diverse centers in the United States (Composite sample) recruited pediatric patients with acquired or congenital HD. Item response option variability, scores [Total (TS); Disease Impact (DI) and Psychosocial Impact (PI) subscales], patterns of correlation, and internal consistency were compared between samples.
Results
A total of 3,128 patients and parent participants (1,113 Development; 2,015 Composite) were analyzed. Response option variability patterns of all items in both samples were acceptable. Inter-sample score comparisons revealed no differences. Median item–total (Development, 0.57; Composite, 0.59) and item–subscale (Development, DI 0.58, PI 0.59; Composite, DI 0.58, PI 0.56) correlations were moderate. Subscale–subscale (0.79 for both samples) and subscale—total (Development, DI 0.95, PI 0.95; Composite, DI 0.95, PI 0.94) correlations and internal consistency (Development, TS 0.93, DI 0.90, PI 0.84; Composite, TS 0.93, DI 0.89, PI 0.85) were high in both samples.
Conclusion
PCQLI scores are externally valid across the US pediatric HD population and may be used for multi-center HRQOL studies.