01-06-2005 | Artikelen | Uitgave 2/2005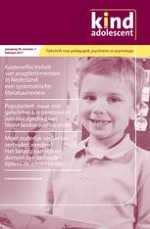 Expressie van emoties bij hoogfunctionerende kinderen met autisme
Tijdschrift:
Auteurs:

Dr. Carolien Rieffe, Drs. Eva Potharst, Dr. Mark Meerum Terwogt, Sander Begeer, Lex Stockmann, Dr. Richard Cowan
Belangrijke opmerkingen
Mevr. dr. C. Rieffe
is verbonden aan de Universiteit Leiden.
Mevr. drs. E. Potharst
en
drs. S. Begeer
zijn werkzaam bij de Vrije Universiteit Amsterdam en bij PI-Research Duivendrecht.
Dr. M. Meerum Terwogt
is verbonden aan de Vrije Universiteit Amsterdam.
Drs. L. Stockmann
is werkzaam bij het Centrum Autisme in Oegstgeest.
Dr. R. Cowan
is verbonden aan de University of London (United Kingdom).
Contactadres:
Dr. Carolien Rieffe, Afdeling Ontwikkelingspsychologie, Universiteit Leiden, Postbus 9555, 2300 RB Leiden
Rieffe, C., Potharst, E., Meerum Terwogt, M., Begeer, S., Stockmann, L., & Cowan, R. (2005). Expression of emotions in high functioning children with autism
, Kind en Adolescent, 26 (2), 214-226.
Summary
: This study compares the regulation of emotional expression in a group of 25 high functioning children with autism between 8 and 15 years old and a control group. The autistic group's responses to a structured interview were less specific about when they would hide their emotions. Their use of substitution rather than neutralisation to conceal emotion also reflected immaturity. Their motives for concealing emotion deviated from the developmental progression shown by children who manifested typical development: they were less likely to report prosocial motives for concealing emotion but they resembled the control group in the frequency with which they reported self-protective motives.
Keywords:
regulation of emotional expression, children, autism.
Samenvatting
Via een semi-gestructureerd interview is het inzicht over emotionele expressie-regels ('display rules') bekeken bij 25 acht- tot vijftienjarige hoogfunctionerende kinderen met autisme. Deze kinderen bleken minder vaak specifieke situaties te benoemen dan kinderen uit een controlegroep. Hun techniek voor emotieverhulling was minder geavanceerd: relatief vaker gebruikten zij substitutie (tonen van een andere emotie) dan neutralisatie. Verder gaven zij minder vaak prosociale redenen, maar wel even vaak zelfbeschermende redenen ten opzichte van de controlegroep. Deze uitkomsten suggereren dat 'display rules' door hoogfunctionerende kinderen met autisme vaker worden gebruikt om een direct eigenbelang te beschermen dan om goede sociale relaties te onderhouden.