Gepubliceerd in: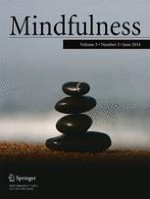 01-06-2014 | ORIGINAL PAPER
Exploring the Effectiveness of a Mindfulness-Based Chronic Pain Management Course Delivered Simultaneously to On-Site and Off-Site Patients Using Telemedicine
Gepubliceerd in: Mindfulness | Uitgave 3/2014
Log in om toegang te krijgen
Abstract
The present study investigated the effectiveness of a mindfulness-based pain management program developed to increase accessibility and acceptability for a severe chronic pain population seeking help in two tertiary level hospital pain clinics. Sixty chronic pain patients completed a 12-week Mindfulness-Based Chronic Pain Management program, while 59 individuals on the waiting list served as a control group. Ages ranged from 32 to 79 (mean age 52), and classes contained a mix of on-site and distant-site participants connected via a telemedicine link. Quality of life, pain catastrophizing, usual pain levels, and pain-related suffering were measured at two points during the study period. Program participants showed significant improvements in mental health, pain catastrophizing, and suffering levels, while the controls remained relatively unchanged. Neither group showed significant changes in the physical quality of life measures or usual pain levels. The present study lends support for the effectiveness of mind–body interventions in improving mental health and suffering in chronic pain sufferers seeking help in tertiary pain clinic settings. It also provides evidence for the usefulness of a mindfulness-based program modified specifically for the chronic pain population, and supports its delivery through telemedicine.