11-03-2020 | Uitgave 7/2020 Open Access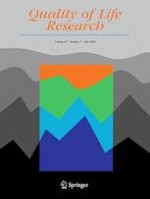 Exploring the burden of X-linked hypophosphatemia: a European multi-country qualitative study
Tijdschrift:
Auteurs:

S. H. Lo, R. Lachmann, A. Williams, N. Piglowska, A. J. Lloyd
Belangrijke opmerkingen
Electronic supplementary material
Publisher's Note
Springer Nature remains neutral with regard to jurisdictional claims in published maps and institutional affiliations.
Abstract
Introduction
X-linked hypophosphatemia (XLH) is a rare, lifelong, progressive disease characterised by renal phosphate wasting and abnormal bone mineralisation. Symptoms begin in early childhood, with the development of rickets and related skeletal deformities and reduced growth, progressing to long-term complications, including pseudofractures and fractures, as well as pain, stiffness and fatigue. The present study was designed to explore the patient experience of pain, stiffness and fatigue and the psychosocial impact of XLH in detail.
Methods
A cross-sectional qualitative study was conducted in the United Kingdom (18), Finland (6), France (4), Germany (1) and Luxembourg (1) with XLH patients aged 26 and over. Interview discussion guides were developed in consultation with clinical experts and patient associations. Data were analysed thematically.
Results
Participants (
N
 = 30) described pain, stiffness and fatigue as frequently experienced symptoms with a significant impact on physical functioning and activities of daily living (ADLs). Some also described the symptoms as impacting their mood/mental health, relationships, social life and leisure activities. Participants described how common symptoms could interact or aggravate other symptoms. Symptoms had often worsened over time, and for many, were associated with concern about the future. Most participants were worried or felt guilty about having children with XLH. The findings confirmed and extended the existing model of the burden of XLH.
Conclusion
The present study is the first to provide an in-depth analysis of pain, stiffness and fatigue, their impact and the interrelatedness of these symptoms among adults with XLH. The study also described the psychosocial impact of XLH as a hereditary, lifelong progressive disease.