01-08-2015 | ORIGINAL PAPER | Uitgave 4/2015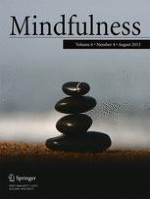 Exploring Mindfulness and Mindfulness with Self-Compassion-Centered Interventions to Assist Weight Loss: Theoretical Considerations and Preliminary Results of a Randomized Pilot Study
Tijdschrift:
Auteurs:

Michail Mantzios, Janet Clare Wilson
Abstract
This research explored whether developing mindfulness and self-compassion through meditation supports weight loss. The research addressed if (a)
mindfulness meditation
and (b)
mindfulness with self-compassion Meditation
(through loving kindness meditation and psycho-educational material to develop self-compassion) aid weight loss and maintenance. Sixty-three soldiers followed independent diet plans and were randomly assigned to a control group, or, one of the two meditation interventions for 5 weeks. Participants lost weight in both experimental groups, while the control group gained weight during the initial 5 weeks. Six months of subsequent, self-motivated and unguided meditative practice, revealed that only the mindfulness with self-compassion meditation group continued losing weight, while the mindfulness meditation group showed no significant weight differences. At a 1-year follow-up, both experimental groups regained some weight, while the control group paradoxically lost weight. Overall, however, the mindfulness with self-compassion meditation group lost significantly more weight than either of the two remaining groups (which did not significantly differ). The findings suggest that developing both mindfulness and self-compassion appears more promising for weight loss than developing mindfulness alone or simply dieting; nevertheless, weight maintenance requires more attention in future research.