07-06-2018 | Empirical Research | Uitgave 10/2018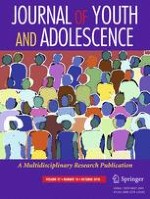 Explicating Acculturation Strategies among Asian American Youth: Subtypes and Correlates across Filipino and Korean Americans
Tijdschrift:
Auteurs:

Yoonsun Choi, Michael Park, Jeanette Park Lee, Miwa Yasui, Tae Yeun Kim
Abstract
Acculturation strategy, a varying combination of heritage and mainstream cultural orientations and one of the significant determinants of youth development, has been understudied with Asian American youth and particularly at a subgroup-specific level. This study used person-oriented latent profile analysis (LPA) to identify acculturation strategy subtypes among Filipino American and Korean American adolescents living in the Midwest. Associations between the subtypes and numerous correlates including demographics, family process and youth outcomes were also examined. Using large scale survey data (
N
 = 1580; 379 Filipino American youth and 377 parents, and 410 Korean American youth and 414 parents;
M
AGE
of youth = 15.01), the study found three acculturation subtypes for Filipino American youth:
High Assimilation with Ethnic Identity
,
Integrated Bicultural with Strongest Ethnic Identity
, and
Modest Bicultural with Strong Ethnic Identity
; and three acculturation subtypes for Korean American youth:
Separation
,
Integrated Bicultural
, and
Modest Bicultural with Strong Ethnic Identity
. Both Filipino American and Korean American youth exhibited immersion in the host culture while retaining a strong heritage identity. Although bicultural strategies appear most favorable, the results varied by gender and ethnicity, e.g.,
integrated bicultural
Filipino Americans, comprised of more girls, might do well at school but were at risk of poor mental health. Korean American
separation
, comprised of more boys, demonstrated a small but significant risk in family process and substance use behaviors that merits in-depth examination. The findings deepen the understanding of heterogeneous acculturation strategies among Asian American youth and provide implications for future research.