Gepubliceerd in: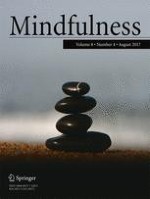 11-02-2017 | ORIGINAL PAPER
Experiences of Psychopathology Distract from Focused Attention During Mindfulness Meditation: Assessment in Relation to Meditation Breath Attention Scores in Mental Health Help-Seeking Participants
Gepubliceerd in: Mindfulness | Uitgave 4/2017
Log in om toegang te krijgen
Abstract
Despite findings linking low trait mindfulness to higher distress, neuroticism, and psychopathology, and a large literature broadly supporting the efficacy of mindfulness meditation (MM)-related interventions in mental healthcare, surprisingly, little is yet known about what persons with psychological disorders actually experience when they practice MM. We therefore undertook such an investigation in a pilot study of 25 mental health help-seeking participants. In summary, we found that (1) psychopathological symptoms occur during MM practice with some frequency in at least a subset of persons seeking mental health treatment; (2) the experience of psychopathology during MM practice likely represents a source of distraction from focused attention (FA) toward breathing, as measured by strong correlations between increased experience of psychopathological symptoms during MM and lower
Meditation Breath Attention Scores
(MBAS); (3) psychopathological symptoms occurring during MM are negatively associated with certain facets of trait mindfulness; and (4) the association between trait mindfulness as a predictor of psychopathology during MM practice is partially mediated by poor FA toward the breath (i.e., MBAS). Study limitations and future research directions are discussed.