01-10-2009 | Uitgave 7/2009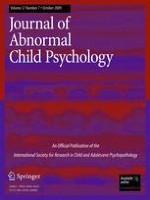 Executive Functions in Children: Associations with Aggressive Behavior and Appraisal Processing
Tijdschrift:
Auteurs:

Mesha L. Ellis, Bahr Weiss, John E. Lochman
Belangrijke opmerkingen
This research was supported by NIMH training grant T32-MH070329 awarded to the second author as well as by The National Institute of Drug Abuse (RO1 DA16135; RO1 DA08453) and the Center for Substance Abuse Prevention (KD1 SP08633) awarded to the third author.
Abstract
This study investigated whether and how deficits in executive functioning and distortions in appraisal processing are related to subtypes of aggressive behavior. The sample included 83 boys assessed using multi-informant reports and performance measures. Deficits in two executive functions, response inhibition and planning ability were related primarily to reactive aggression. Hostile attributional biases moderated relations between planning ability and proactive and reactive aggression subtypes, with minimal relations between planning deficits and aggression at low levels of hostile attributional bias. As the level of hostile attributional bias increased, the relation between planning deficits and reactive aggression became increasingly large in a positive direction whereas the relation between planning deficits and proactive aggression became increasingly negative. Additionally, hostile encoding moderated the relation between behavioral inhibition and reactive aggressive behavior. Results also suggested a mediational role for response inhibition in the relation between planning ability and reactive aggression.