20-08-2021 | ORIGINAL PAPER | Uitgave 10/2021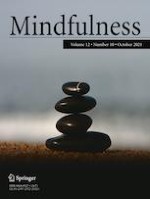 Examining Practice Effects in a Randomized Controlled Trial: Daily Life Mindfulness Practice Predicts Stress Buffering Effects of Mindfulness Meditation Training
Tijdschrift:
Auteurs:

Andrew W. Manigault, Jeremiah Slutsky, Julianna Raye, John David Creswell
Belangrijke opmerkingen
Publisher's Note
Springer Nature remains neutral with regard to jurisdictional claims in published maps and institutional affiliations.
Abstract
Objectives
Mindfulness practice is thought to underlie the therapeutic effects of mindfulness interventions. Yet, more research is needed to evaluate mindfulness practice effects and identify effective practice types. The present study examined the effects of two types of mindfulness practice (audio-guided and daily life mindfulness practice) on measures of stress and coping in a workplace sample.
Methods
Employees from a digital marketing firm undergoing stressful organizational restructuring (
n
final
 = 60; aged 21–57; 95.0% white; 66.7% women) were randomly assigned to a high- (1-day seminar plus 6-week practice) or low-dose (1-day seminar) mindfulness training program. Participants completed 3 days of ecological momentary assessments of stress/coping pre- and post-interventions. Audio-guided mindfulness practice was assessed by the number of audio-guided practice sessions completed during the intervention period; daily life mindfulness practice was indexed by how often participants reported applying mindfulness to daily activities during the intervention period.
Results
Across the full sample, more frequent daily life mindfulness practice buffered against pre- to post-intervention increases in stress ratings (
β
 =  − .18,
p
 = .002), stressor frequency (
β
 =  − .32,
p
 < .001), and stressor intensity (
β
 =  − .27,
p
 = .003), and decreases in successful coping (
β
 = .25,
p
 = .005). Comparable (but weaker) results were observed for audio-guided mindfulness practice (stress ratings:
β
 =  − .15,
p
 = .013; stressor frequency:
β
 =  − .27,
p
 < .001; stressor intensity:
β
 =  − .22,
p
 = .015; successful coping:
β
 = .17,
p
 = .066).
Conclusions
Much of the mindfulness meditation RCT literature to date has not measured or reported guided or daily life practices, and this work suggests that measuring both may be important for understanding the stress buffering effects of mindfulness meditation training.