18-03-2017 | Uitgave 1/2018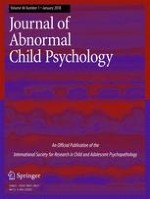 Evidence of Non-Linear Associations between Frustration-Related Prefrontal Cortex Activation and the Normal:Abnormal Spectrum of Irritability in Young Children
Tijdschrift:
Auteurs:

Adam S. Grabell, Yanwei Li, Jeff W. Barker, Lauren S. Wakschlag, Theodore J. Huppert, Susan B. Perlman
Belangrijke opmerkingen
Portions of the findings included in this manuscript were presented as a poster at the Congress on Pediatric Irritability and Dysregulation, University of Vermont, Burlington, VT (October 21–22, 2015).
Abstract
Burgeoning interest in early childhood irritability has recently turned toward neuroimaging techniques to better understand normal versus abnormal irritability using dimensional methods. Current accounts largely assume a linear relationship between poor frustration management, an expression of irritability, and its underlying neural circuitry. However, the relationship between these constructs may not be linear (i.e., operate differently at varying points across the irritability spectrum), with implications for how early atypical irritability is identified and treated. Our goal was to examine how the association between frustration-related lateral prefrontal cortex (LPFC) activation and irritability differs across the dimensional spectrum of irritability by testing for non-linear associations. Children (
N
= 92; ages 3–7) ranging from virtually no irritability to the upper end of the clinical range completed a frustration induction task while we recorded LPFC hemoglobin levels using fNIRS. Children self-rated their emotions during the task and parents rated their child's level of irritability. Whereas a linear model showed no relationship between frustration-related LPFC activation and irritability, a quadratic model revealed frustration-related LPFC activation increased as parent-reported irritability scores increased within the normative range of irritability but decreased with increasing irritability in the severe range, with an apex at the 91st percentile. Complementarily, we found children's self-ratings of emotion during frustration related to concurrent LPFC activation as an inverted U function, such that children who reported mild distress had greater activation than peers reporting no or high distress. Results suggest children with relatively higher irritability who are unimpaired may possess well-developed LPFC support, a mechanism that drops out in the severe end of the irritability dimension. Findings suggest novel avenues for understanding the heterogeneity of early irritability and its clinical sequelae.