14-09-2017 | Original Article - E‑Learning | Uitgave 11/2017 Open Access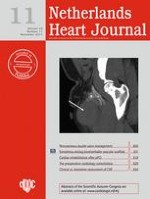 Everolimus-eluting bioresorbable vascular scaffold in daily clinical practice: A single-centre experience
Tijdschrift:
Auteurs:

W. S. Remkes, R. S. Hermanides, M. W. Kennedy, E. Fabris, E. Kaplan, J. P. Ottervanger, A. W. J. van 't Hof, E. Kedhi
Belangrijke opmerkingen
W.S. Remkes and R.S. Hermanides contributed equally to this article.
Abstract
Background
Recent evidence has raised concerns regarding the safety of the everolimus-eluting bioresorbable vascular scaffold (E-BVS) (Absorb, Abbott Vascular, Santa Clara, CA, USA). Following these data, the use of this device has diminished in the Netherlands; however, daily practice data are limited. Therefore we studied the incidence of safety and efficacy outcomes with this device in daily clinical practice in a single large tertiary centre in the Netherlands.
Methods
All E‑BVS treated patients were included in this analysis. The primary endpoint was target lesion failure (TLF), a composite of cardiac death, target vessel non-fatal myocardial infarction (TV-MI) and clinically-driven target lesion revascularisation (TLR). The secondary endpoint was the incidence of definite scaffold thrombosis.
Results
Between October 2013 and January 2017, 105 patients were treated with 147 E‑BVS. This population contained 42 (40%) patients with diabetes mellitus and 43 (40.9%) undergoing treatment for acute coronary syndrome, and thus represents a high-risk patient cohort. Mean follow-up was 19.8 months. Intravascular imaging guidance during scaffold implantation was used in 64/105 (43.5%) patients. The primary endpoint (TLF) occurred in 3 (2.9%) patients. All-cause mortality and cardiac mortality occurred in 2 (2%) and 0 (0%) patients respectively. TV-MI occurred in 2 patients (1.9%): both were periprocedural and not related to the BVS implantation. TLR occurred in 1 patient (1.0%) during follow-up. No definite scaffold thrombosis occurred during follow-up.
Conclusion
This single-centre study examining the real-world experience of E‑BVS implantation in a high-risk population shows excellent procedural safety and long-term clinical outcomes.