01-12-2013 | Research | Uitgave 1/2013 Open Access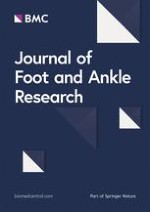 Evaluation of multi-segmental kinematic modelling in the paediatric foot using three concurrent foot models
Tijdschrift:
Auteurs:

Ryan Mahaffey, Stewart C Morrison, Wendy I Drechsler, Mary C Cramp
Belangrijke opmerkingen
Electronic supplementary material
The online version of this article (doi:
10.​1186/​1757-1146-6-43
) contains supplementary material, which is available to authorized users.
Competing interests
The authors declare that they have no competing interests.
Authors' contributions
RM, SCM, WID and MCC all conceived and designed the study. RM collected and analysed the data. RM drafted the manuscript with the assistance of SCM, WID, and MCC. All authors approved the final manuscript.
Abstract
Background
Various foot models are used in the analysis of foot motion during gait and selection of the appropriate model can be difficult. The clinical utility of a model is dependent on the repeatability of the data as well as an understanding of the expected error in the process of data collection. Kinematic assessment of the paediatric foot is challenging and little is reported about multi-segment foot models in this population. The aim of this study was to examine three foot models and establish their concurrent test-retest repeatability in evaluation of paediatric foot motion during gait.
Methods
3
DFoot, Kinfoot and the Oxford Foot Model (OFM) were applied concurrently to the right foot and lower limb of 14 children on two testing sessions. Angular data for foot segments were extracted at gait cycle events and peaks and compared between sessions by intraclass correlation coefficient (ICC) with 95% confidence intervals (95%CI) and standard error of measurement (SEM).
Results
All foot models demonstrated moderate repeatability: OFM (ICC 0.55, 95% CI 0.16 to 0.77), 3DFoot (ICC 0.47, 95% CI 0.15 to 0.64) and Kinfoot (ICC 0.43, 95% CI -0.03 to 0.59). On the basis of a cut-off of 5°, acceptable mean error over repeated sessions was observed for OFM (SEM 4.61° ± 2.86°) and 3DFoot (SEM 3.88° ± 2.18°) but not for Kinfoot (SEM 5.08° ± 1.53°). Reliability of segmental kinematics varied, with low repeatability (ICC < 0.4) found for 14.3% of OFM angles, 22.7% of 3DFoot angles and 37.6% of Kinfoot angles. SEM greater than 5° was found in 26.2% of OFM, 15.2% of 3DFoot, and 43.8% of Kinfoot segmental angles.
Conclusion
Findings from this work have demonstrated that segmental foot kinematics are repeatable in the paediatric foot but the level of repeatability and error varies across the segments of the different models. Information on repeatability and test-retest errors of three-dimensional foot models can better inform clinical assessment and advance understanding of foot motion during gait.