26-10-2016 | Original Article | Uitgave 1/2017 Open Access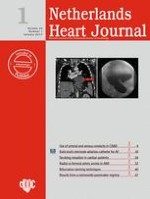 Evaluation of bifurcation stenting techniques at Catharina Hospital, Eindhoven in 2013
Tijdschrift:
Auteurs:

S. J. L. Leus, E. van Hagen, F. M. Zimmermann, L. X. van Nunen, M. van 't Veer, J. Koolen, N. H. J. Pijls
Abstract
Aims
Percutaneous coronary intervention (PCI) of bifurcation lesions can be performed using various techniques. The aim of this study was to analyse the outcome of various techniques of bifurcation stenting in all patients undergoing bifurcation stenting at one large intervention centre in 2013, taking into account that more complex lesions might more often warrant a two-stent technique.
Methods and results
This retrospective study included 260 consecutive patients who underwent non-primary PCI of a bifurcation lesion at the Catharina Hospital, Eindhoven, in 2013. Patients were classified into two groups: one-stent technique (provisional stenting), and two-stent techniques (culotte, crush and T‑stenting). The primary endpoint was the rate of restenosis at 1 year. The secondary endpoints were procedural complications (side branch occlusion, periprocedural infarction, and death) and major adverse cardiac events (MACE) at 1 year. Periprocedural complications occurred in 15 patients (5.8 %) with no difference between the groups (
p
= 0.27). After 1 year, restenosis occurred in 3.2 % of the patients in the one-stent technique group and 7.3 % in the two-stent technique group (
p
= 0.20). MACE at 1 year did not differ between the groups at 11.9 % and 12.2 % respectively (
p
= 1.00).
Conclusions
This study shows that there is no significant difference between restenosis rate, or any other outcome parameter, with the different techniques of bifurcation stenting. Since provisional stenting is the simplest, most straightforward and cheapest approach, if technically feasible this technique has our preference as the initial approach, and an upgrade can be considered if the result is insufficient.