01-04-2014 | Uitgave 3/2014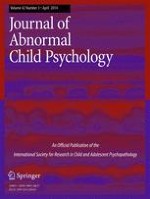 Evaluation of a Booster Intervention Three Years After Acute Treatment for Early-Onset Disruptive Behavior Disorders
Tijdschrift:
Auteurs:

David J. Kolko, Oliver Lindhiem, Jonathan Hart, Oscar G. Bukstein
Abstract
This study examines the impact of a brief booster treatment administered 3 years after the delivery of an acute treatment in a group (
n
 = 118) of clinically referred boys and girls (ages 6 to 11) originally diagnosed with Oppositional Defiant Disorder (ODD) or Conduct Disorder (CD). At the conclusion of the acute treatment and three-year follow-up period (i.e., study month 42), the sample was re-randomized into Booster treatment or Enhanced Usual Care and then assessed at four later timepoints (i.e., post-booster, and 6-, 12- and 24-month booster follow-up). Booster treatment was directed towards addressing individualized problems and some unique developmental issues of adolescence based on the same original protocol content and treatment setting, whereas the Enhanced Usual Care condition involved providing clinical recommendations based on the assessment and an outside referral for services. HLM analyses identified no significant group differences and few time effects across child, parent, and teacher reports on a broad range of child functioning and impairment outcomes. Analyses examining the role of putative moderators or predictors (e.g., severity of externalizing behavior, dose of treatment) were likewise non-significant. We discuss the nature and implications of these novel findings regarding the role and timing of booster treatment to address the continuity of DBD over time.