01-01-2015 | Original Article | Uitgave 1/2015 Open Access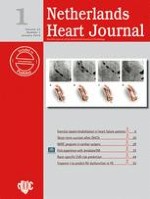 Evaluation and classification of right ventricular wall motion abnormalities in healthy subjects by 3-tesla cardiovascular magnetic resonance imaging
Tijdschrift:
Auteurs:

S. Quick, U. Speiser, K. Kury, S. Schoen, K. Ibrahim, R. Strasser
Belangrijke opmerkingen
Silvio Quick and Uwe Speiser have contributed equally.
Abstract
Background
Right ventricular (RV) shape and function serves as an indicator in several types of heart disease such as arrhythmogenic right ventricular dysplasia (ARVD). However, there is no in-depth knowledge of RV motion, even in healthy subjects. The aim of our study was to provide a quantitative analysis of normal variations in RV wall motion in healthy subjects by cardiac magnetic resonance imaging (CMRI).
Material and methods
The study population consisted of 65 consecutive patients referred for the evaluation of cardiac function by 3 Tesla CMR. Balanced steady-state free-precession images were obtained and areas of disordered RV wall motion were evaluated and classified based on a standardised segmental model for the right ventricle.
Results
In 59 patients (90.8 %) wall motion abnormalities (WMA) of the right ventricle were evident. WMA were predominately detected in the apicolateral segments (72 %) compared with mediolateral (24 %,
P
 < 0.001) and inferolateral segments (4 %,
P
 < 0.001). Dyskinesia was the most frequent wall motion disorder (62.4 %), followed by hypokinesia (20.8 %) and bulging (16.8 %). The mean WMA diameter in the transverse plane (6.4 ± 1.9 mm) was significantly shorter compared with the diameter in the horizontal long-axis (8.1 ± 3.6 mm,
P
 = 0.002) and short-axis plane (10.7 ± 4.6 mm).
Conclusion
WMA of the right ventricle are common. Therefore, one should be aware that these nonpathological wall motion disorders can easily be mistaken for a pathological regional wall motion contraction, particularly in ARVD where to date, clear wall motion criteria are lacking.