01-11-2013 | Show and Tell | Uitgave 5-6/2013 Open Access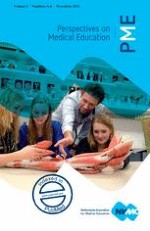 Evaluating the impact of interactive and entertaining educational conferences
Tijdschrift:
Auteurs:

Karen Jerardi, Lauren Solan, Dominick DeBlasio, Jennifer O'Toole, Christine White, Connie Yau, Heidi Sucharew, Melissa D. Klein
Abstract
Adult learning theory suggests that meaningful engagement impacts learning. To evaluate the impact of resident-led interactive conferences on satisfaction, engagement and knowledge acquisition. A prospective study at a paediatric academic institution compared educational conferences in two formats. Control conferences were PowerPoint
®
lectures and intervention conferences included multimedia, audience participation and faculty mentorship. Learner and presenter satisfaction and learner engagement were assessed by post-conference surveys. Knowledge was assessed via pre- and post-conference open-ended questions; matched pre- and post-questions were analyzed. Control and intervention groups' satisfaction and engagement were compared using the Wilcoxon rank-sum test. Comparison of proportion of learners with improved post-conference knowledge score was analyzed with the Chi square test. There were 181 control and 170 intervention surveys collected. Learners' median satisfaction (4 vs. 5,
p
= .03) and engagement (4 vs. 5,
p
< .01) ratings improved in the intervention group. Presenters rated audience engagement higher during the intervention conferences (median 3 vs. 4,
p
= .01). Knowledge acquisition, compared for matched surveys only, was not significantly different between the groups. Learner and presenter satisfaction and learner engagement were higher for the interactive format. While knowledge acquisition was unchanged, greater satisfaction encourages the use of interactive conferences.