Gepubliceerd in: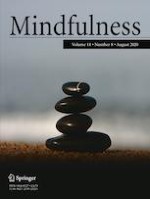 18-02-2020 | REVIEW
Evaluating the Effectiveness of Mindfulness and Compassion-Based Programs on Shame and Associated Psychological Distress with Potential Issues of Salience for Adult Survivors of Childhood Sexual Abuse: a Systematic Review
Gepubliceerd in: Mindfulness | Uitgave 8/2020
Log in om toegang te krijgen
Abstract
Objectives
This systematic review seeks to establish the effectiveness of mindfulness and compassion-based programs for reducing shame and psychological distress in heterogeneous adult populations and identify potential issues of salience towards adult survivors of childhood sexual abuse.
Methods
A systematic review, undertaken to establish the current literature on the subject, incorporated a systematic search of five electronic databases, yielding a sample of 177 potentially relevant papers. One further paper was identified during the hand search process. Following duplicate removal and screening, 16 papers were identified for review. Full-text articles of all 16 papers were independently screened by two researchers, of those nine met the inclusion/exclusion criteria. Quality appraisal of all included studies was independently completed by the same two researchers. Data were extracted and synthesised narratively.
Results
Support in favour of mindfulness and compassion-based programs for the reduction of shame and associated psychological distress among a diverse range of adult populations was seen in all nine studies. Furthermore, increases in self-compassion were observed. Due to the weak methodological quality of included studies, results should be interpreted with caution.
Conclusions
There is evidence to suggest that mindfulness and compassion-based programs present a promising approach for reducing shame-based psychological distress across a range of adult populations. Further research to explore these outcomes in relation to the proposed population—adult survivors of childhood sexual abuse—is not only beneficial but also imperative in such a high shame, difficult to treat population.