20-07-2016 | S.I. : Anxiety in Autism Spectrum Disorders | Uitgave 12/2017 Open Access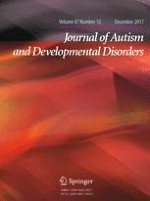 Evaluating the Effectiveness of a School-Based Cognitive Behavioural Therapy Intervention for Anxiety in Adolescents Diagnosed with Autism Spectrum Disorder
Tijdschrift:
Auteurs:

Sarah Luxford, Julie A. Hadwin, Hanna Kovshoff
Belangrijke opmerkingen
This work was submitted as part of Sarah Luxford's (previously Sarah Fossey's) Doctorate in Educational Psychology dissertation.
Introduction
Method
Results
Discussion
Previous research has supported the efficacy of CBT interventions for use with an ASD population through clinic-based study and clinical samples (Lang et al.
2010
). The aim of the current study was to extend this evidence base to investigate if CBT is an effective intervention to reduce symptoms of anxiety and social worry in a community derived sample of adolescents with ASD when delivered within a school setting. The use of a community sample allowed us to highlight that some adolescents attending mainstream school experience anxious affect (as reported via parents or teachers), and that identification of elevated anxiety symptoms had either gone unnoticed or untreated. Following a CBT intervention adolescents with ASD (versus a wait-list control group) showed greater reductions in anxiety symptoms, school anxiety and social worry, as reported by parents, teachers and young people themselves, and these results were maintained at a 6 week follow-up. In addition, teachers reported marginally increased social responsiveness for young people in the intervention group, which was most evident 6 weeks post-intervention. The impact of the intervention on attentional control and attention to threat was less clear; considering attention bias to threat, both groups showed reduced interference of threat stimuli to achieve task goals. In addition, the intervention group showed less distractibility overall, and although this difference was most marked post intervention and at follow up; this group difference was not sensitive to time.
The results of the current study support previous findings to show that CBT is an effective intervention for reducing symptoms of anxiety and social worry in a community sample of adolescents diagnosed with ASD, and where positive effects were maintained 6 weeks following the intervention. These improvements support the use of the Exploring Feelings intervention (Attwood
2000
;
2004
) in school settings and are consistent with the findings of previous studies in young people with ASD (e.g., McNally et al.
2013
; Reaven et al.
2012
; review by Kreslins et al.
2015
). The intervention used in the current study was designed specifically for use with young people with ASD and the current results support recent modifications in the development of CBT interventions for this population, in terms of delivery and content (review by Moree and Davis
2010
). Specifically, the intervention uses a coping model rather than a curative model (Beebe and Risi
2003
) and a more directive teaching approach (Anderson and Morris
2006
).
Previous findings suggest that for school-based interventions to be effective in terms of generalization and maintenance of effects, there is a need for teachers to incorporate strategies that promote these qualities (e.g., teaching new skills in natural settings and using everyday consequences to reinforce new behaviours; Machalicek et al.
2008
). The generalization of target skills may require additional training for the teaching staff and parents. In the current study, front-line school staff were directly involved in the intervention delivery and followed the guidance given by the intervention facilitators to encourage adolescents to use taught skills across the school day. In addition, the intervention included homework tasks that also served to engage parents in the reinforcement of new skills. Reviews of CBT indicate that parent involvement in the delivery of interventions is as effective as individual or group based interventions (James et al.
2013
). The inclusion of parents and teachers in the current study is reflected in the positive results across different sources; from adolescent self-report, as well as parents and teachers (see Chalfant et al.
2007
, for similar findings). It suggests that skills taught within the CBT sessions resulted in symptom change that was evident across different contexts.
Consistent with previous research, the findings also showed that the intervention had a small positive effect on social skills more broadly, as reported by teachers (Storch et al.
2013
; Sukhodolsky et al.
2008
). Although the social responsiveness scale has previously been used to identify characteristics of ASD (rather than as an outcome measure), there is emerging evidence that it is a measure that is sensitive to change following treatment for individuals with ASD (Lopata et al.
2010
; White et al.
2013
). Previous research has, however, shown that young people with ASD can show difficulty in generalising taught social skills to contexts outside of the teaching environment (Bellini et al.
2007
; White et al.
2007
). These findings fit with the current study, which found that parents did not report change in social responsiveness following the intervention. There is a need for future research to systematically explore the impact of practice opportunities within the intervention environment and across different contexts to understand their importance in effecting and maintaining positive change for young people with ASD.
Previous research has shown that anxiety in children and adolescents is associated with poor attentional control and an attention bias to threat (review by Dudeney et al.
2015
) and that this selective attention to threat is reduced following a CBT intervention (i.e., reduced attention to threat stimuli in the pursuit of task goals; Hadwin and Richards
2016
; Reinholdt-Dunne et al.
2015
). The current study also found that (parent-reported) anxiety was associated with increased interference of threat stimuli in an emotional stroop task and it supports the proposition that anxiety related threat biases are a feature of anxiety in adolescents with ASD. The current study however did not find links the CBT intervention with improvements in attentional control or a reduced bias to threat. The results showed that both groups showed increased resistance to distraction post-intervention and at follow-up; this was greater in the intervention group but this difference was not significantly associated with time. This result, if replicated with a larger sample size to demonstrate group differences over time, would fit well with a growing literature that has highlighted a bidirectional relationship between attentional processing and the regulation of anxious affect (e.g., Bishop
2007
). In addition, it supports the proposition that re-appraisal can facilitate the regulation of negative affect, allowing individuals to meet task goals (Ochsner et al.
2002
).
Limitations and Future Directions
The current study represents a novel exploration to highlight the effectiveness of CBT in a community sample of adolescents in a school setting. It extends previous research to deliver the intervention in a context that was more familiar to adolescents and that showed beneficial effects on generalisation across contexts and functioning. The findings have implications for professionals working with children and adolescents with ASD with elevated anxiety to provide some guidance in contexts where interventions can be implemented to effect positive change. There are however several limitations linked to the current study. Firstly, the researchers did not formally measure treatment integrity. In addition, there was no active control group to explore whether CBT was more effective than other interventions and to control for time spent in the intervention. Moreover, researchers and raters were not blinded to condition allocation at post-intervention or follow-up, leading to potential over-reporting of change and active control groups can help to meet this difficulty. Finally, longer-term follow-up assessment of outcomes would yield useful information towards determining the durability of findings. Future research should consider exploring the efficacy and feasibility of a school-based intervention that aims to both reduce anxiety and increase social competency and attentional control. Moreover, larger sample sizes will allow greater consider of what mechanisms are important in understanding change.
Author Contributions
This research formed the basis of SL's Doctorate in Educational Psychology. SL collected the data and delivered the intervention. SL, JAH, and HK made substantial contributions to the conception and design, analysis and interpretation of the data, and drafted the manuscript. All authors read and approved the manuscript.
Open Access
This article is distributed under the terms of the Creative Commons Attribution 4.0 International License (
http://​creativecommons.​org/​licenses/​by/​4.​0/​
), which permits unrestricted use, distribution, and reproduction in any medium, provided you give appropriate credit to the original author(s) and the source, provide a link to the Creative Commons license, and indicate if changes were made.
Footnotes
1
Please note that because of the exploratory nature of secondary outcomes, we have not corrected for multiple comparisons in this table.
2
Further analyses controlling for T1 anxiety scores in both analyses support this pattern of results, showing a main effect of group and indicating fewer anxiety symptoms for the intervention compared with the control group (all other effects were not significant).
3
Analyses controlling for T1 group differences in school anxiety scores showed a significant main effect of group, highlighting more anxiety symptoms at T1 and T3 in the control group compared with the intervention group.