01-06-2007 | Original Paper | Uitgave 5/2007 Open Access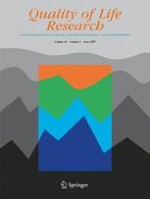 Evaluating the discriminatory power of EQ-5D, HUI2 and HUI3 in a US general population survey using Shannon's indices
Tijdschrift:
Auteurs:

Mathieu F. (Bas) Janssen, Erwin Birnie, Gouke J. Bonsel
Introduction
Our aim is to investigate the discriminatory power of the EQ-5D, HUI2 and HUI3 in a general population sample, as expressed by Shannon's indices. Informativity was assessed separately by dimension and by MAUI as a whole.
Methods
Results
The mean age of the respondents was 42.9 years (range: 18.0–99.3 years), with 42.2% of the respondents being male. White (non-Hispanic) respondents were 1,435 (38.9%), non-Hispanic blacks were 1,018 (27.6%) and Hispanic were 1,100 (29.8%).
Table
2
shows the frequencies of responses to the EQ-5D, HUI2 and HUI3 dimensions. The dominant response was 'no problems' (level 1) for all dimensions in all instruments, with a proportion larger than 90% for 1 out of 5 dimensions in EQ-5D (Self-Care), 1 out of 6 in HUI2 (Self-Care) and 3 out of 8 in HUI3 (Hearing, Speech, Dexterity). In all EQ-5D and HUI2 dimensions, frequencies decreased with increasing level severity. In the HUI3 Cognition dimension however, more respondents reported problems at level 3 (17.9%) and level 4 (7.4%) than at level 2 (4.1%). Although small, these differences also occurred in the HUI3 Vision and HUI3 Hearing dimensions.
Table 2
Frequency distribution (%) of responses to the EQ-5D, HUI2 and HUI3 instruments (
N
= 3,691)
Level 1

Level 2

Level 3

Level 4

Level 5

Level 6

Mobility

82.17

17.53

0.30

–

–

–

Self care

95.58

4.01

0.41

–

–

–

Usual activities

84.88

13.57

1.54

–

–

–

Pain/Discomfort

61.28

34.71

4.01

–

–

–

Anxiety/Depression

73.86

23.57

2.57

–

–

–

Sensation

44.54

43.54

10.76

1.16

–

–

Mobility

87.24

8.48

3.60

0.68

0.00

–

Emotion

69.20

27.85

1.82

0.65

0.49

–

Cognition

68.36

29.94

1.63

0.08

–

–

Self-care

96.64

2.95

0.19

0.22

–

–

Pain

48.17

40.94

7.10

2.98

0.81

–

Vision

48.50

47.87

1.00

2.47

0.03

0.14

Hearing

94.58

0.92

1.52

1.65

0.30

1.03

Speech

92.68

4.82

2.03

0.43

0.03

–

Ambulation

87.24

8.48

2.55

1.06

0.51

0.16

Dexterity

92.44

5.82

0.79

0.70

0.14

0.11

Emotion

72.50

22.32

3.74

1.16

0.27

–

Cognition

68.36

4.15

17.85

7.37

2.19

0.08

Pain

49.34

33.73

11.46

4.01

1.46

–
Figure
2
shows absolute informativity (Shannon's
H
′) and relative informativity (Shannon's Evenness
J
′) of the common dimensions among the three instruments. Absolute informativity (
H
′) was highest for HUI3 in all common dimensions, with largest differences between HUI3 and the other two instruments in the dimensions Pain/Discomfort (0.52 compared to EQ-5D; 0.15 compared to HUI2) and Cognition (0.41 compared to HUI2).
×
Relative informativity (
J
′) was highest for EQ-5D in all common dimensions, with largest differences with the other two instruments in the dimensions Mobility/Ambulation (0.14 compared to HUI2; 0.16 compared to HUI3) and Anxiety/Depression/Emotion (0.14 compared to HUI2; 0.13 compared to HUI3).
Table
3
shows Shannon's indices by classification system as a whole. The EQ-5D, HUI2 and HUI3 descriptive systems distinguished 91, 322, and 694 observed different unique health states, accounting for 37.4%, 4.0%, and 0.07% of all possible permutations, respectively. The estimation procedure indicated that absolute informativity was highest for HUI3 (range 10.96–13.36), followed by HUI2 (range 8.57–9.48), and lowest for EQ-5D (range 6.24–6.41). Relative informativity was highest in EQ-5D (range 0.79–0.81), followed by HUI2 (range 0.66–0.73), and lowest for HUI3 (range 0.55–0.67).
Table 3
Shannon's index (
H
′) and Shannon's evenness index (
J
′) for EQ-5D, HUI2, and HUI3: Comparison by instrument
EQ-5D

HUI2

HUI3

243

8000

972,000

Observed health states

91

322

694

7.92

12.97

19.89

Estimation

6.24

0.79

8.57

0.66

10.96

0.55

6.37

0.80

9.12

0.70

12.29

0.62

6.41

0.81

9.48

0.73

13.36

0.67
Discussion
We compared the discriminatory power of the EQ-5D, HUI2 and HUI3 in the general population, using Shannon's indices of absolute and relative informativity, for each dimension separately and by MAUI as a whole.
As might be expected in a general population sample, most respondents reported no problems on all dimensions and there were fewer responses with increasing level severity. An exception is HUI3 Cognition, where respondents reported more problems on levels 3 and 4 than on level 2. This is probably due to the fact that this dimension is not unidimensional, and levels 2 and 3 are conceptualized parallel rather than ordinal. That is, HUI3 Cognition level 2 focuses on problems in thinking and problem solving, level 3 addresses problems in remembering, whereas level 4 combines the problems mentioned in levels 2 and 3.
Absolute informativity by dimension was highest for the HUI3 descriptive system. EQ-5D appears to underperform in the Pain/Discomfort dimension. Moreover, EQ-5D appears to miss a considerable 'amount' of disability: 61.3% of the population indicated to have no problems on EQ-5D, against 48.2% on HUI2 and 49.3% on HUI3 (Table
2
). Shannon's
H
′ 'translated' this difference adequately (Figure
2
). Apparently, for this population, the EQ-5D would benefit from more levels on the Pain/Discomfort dimension. Regarding the Cognition dimension, the difference in absolute informativity between HUI2 and HUI3 might be explained by the 2 extra levels in HUI3, but the higher
J
′ value in HUI3 suggests an alternative contributive factor. One explanation may be that HUI3 Cognition is not unidimensional and more sensitive to mild problems (levels 2–4) than HUI2 Cognition (level 2). Another explanation could be that the difference is due to currently suboptimal recoding algorithms.
For relative informativity by dimension, the EQ-5D descriptive system showed superior results in Mobility/Ambulation, Self-Care and Anxiety/Depression/Emotion. The large differences in Mobility/Ambulation could be due to a relatively large leap in the grading of the level descriptions in HUI3 Ambulation, where the difference between level 1 ('without difficulty') and level 2 ('with difficulty') can be considered disproportionately large in a 6 level dimension. The same leap from level 1 ('normal') to level 2 ('with difficulty') occurs in HUI2 Self-Care. We found that the 3 level EQ-5D Self Care outperformed the 4 level HUI2 Self-Care in both absolute and relative informativity (Fig.
2
), which is probably due to the severe grading of level 2 in HUI2. The difference in relative informativity between EQ-5D and the HUI instruments in Anxiety/Depression/Emotion is probably due to the 2 extra levels in HUI2 and HUI3 that are rarely endorsed.
Overall, performance in terms of informativity of EQ-5D, HUI2 and HUI3 of the common dimensions varies over dimensions. The Pain/Discomfort dimension of EQ-5D, but perhaps also other dimensions, might benefit from an extension to 4 or 5 levels. HUI2 and HUI3 might benefit from more sensitive grading terms in their level descriptions, especially the 'threshold' level 2, in Ambulation (HUI3) and Self-Care (HUI2).
When assessing informativity by instrument, HUI3 shows the best results on absolute informativity but the lowest on relative informativity while EQ-5D shows highest relative informativity and lowest absolute informativity. HUI2 seems to be the optimal compromise. The importance of differences in the Shannon indices ultimately requires empirical evidence over a wider range of populations, conditions and instruments, including evidence on discriminant validity.
As Shannon's indices are new in the field of health status measurement, some methodological issues need to be addressed, taking into account that their principal focus is on classifications with mutually exclusive categories, rather than conventional (health status) measures which by design contain multiple partially overlapping items.
The Shannon indices share some properties with reliability coefficients. Like reliability indices, they express discriminatory power. Furthermore, they are also non-dimensional, i.e. they have no relation to the content, meaning or clinical relevance of what the instrument aims to measure, which make them suitable for comparability, between instruments as well as between populations. However, reliability reflects two different concepts: discriminatory power as such, and consistency, e.g. consistency between raters (inter-rater reliability) or consistency over time (test-retest reliability). This requires a repeated measurement (repetition 'over raters' or over time) which introduces an error component in case of a difference among the repeated measurements. Shannon's indices solely reflect discriminatory power, and need only a single measurement. Furthermore, the Shannon indices are non-parametric measures and therefore highly suitable for nominal or ordinal measurement scales.
Since Shannon's indices have no dimension and are independent of any external standard, a rectangular distribution is always the ideal from the perspective of informativity. When comparing the discriminatory power of similar dimensions of different MAUIs, rectangularity is always optimal as it reflects which MAUI is the most sensitive in discriminating between different persons
in that particular population
. This implies that one MAUI cannot be superior in varying populations (e.g. a general population and a diseased population sample). Furthermore, MAUIs are bound to score rather low on discriminatory power in a general population sample, as the extreme categories, which have to be included for coverage of the full spectrum of diseases, will not be endorsed frequently.
Previously, the common approach to investigate discriminatory power was examining the frequency distributions of responses, e.g. for ceiling or floor effects. A comprehensive, formal measure to express discriminatory power such as Shannon's indices seems clearly superior to such a 'face-value' method. Furthermore, when the number of categories is large (e.g. when comparing MAUIs as a whole), it becomes very difficult to make a sound comparison by just looking at the distributions.
We have demonstrated the use of the Shannon indices to compare the discriminatory power of different MAUIs, to show which instrument is more sensitive in differentiating between levels of health in the population at hand. But they may also be used to guide the development of new, or optimization of existing MAUIs, by helping determine how many levels are efficient for each dimension. This is a particularly relevant consideration for MAUIs, since adding extra levels in a descriptive system makes it increasingly complex, and the derivation of a robust set of preference weights more challenging.
Apart from MAUIs, the Shannon indices can also be used in a wide range of other classifications in the medical domain (e.g. the Karnofsky scale, the Spitzer QL index) and in the clinical domain (e.g. the APGAR score, the Child-Pugh classification).
A practical weakness of the Shannon approach is that when the sample size is exceeded by the total number of health states described by all permutations across all dimensions of a MAUI, informativity (for the instrument as a whole) has to be estimated. This implies that using the Shannon Evenness index by instrument is not very practical when a health classification system has a large number of permutations as was the case in HUI3 (972,000 permutations). This however is not a disadvantage of the Shannon methodology per se, but also a matter of classification design (overload of dimensions with detailed response options producing an excessive amount of 'empty' permutations), or a practical problem (excessive data collection).
From a clinical or psychometric perspective it may seem tempting to extend any MAUI with extra levels or dimensions as it provides more clinically relevant detail generally and improves reliability. But Shannon's indices reveal that this may not always be a prudent approach. Increasing the number of levels per dimension (or permutations in the entire system) will probably result in higher
H
′ values but
J
′ values are likely to drop, as in fact our results for HUI3 indicate. This raises the question where the balance between
H
′ and
J
′ is optimal as more categories require more extensive subsequent studies to derive utility functions for the associated classification system.
How the Shannon indices will behave in a different population, such as patient populations, remains to be investigated. So far, Shannon's indices proved to be useful in showing weaknesses of level gradings used in EQ-5D, HUI2 and HUI3, and offers leads for improvement, establishing their practical psychometric value.
Acknowledgements
We would like to thank Stephen Joel Coons and James Shaw for assisting with the dataset. Part of the material presented in this paper was presented and discussed at the 2005 Annual EQ Meeting. We also thank Thomas Kohlmann for presenting a commented draft on part of our analysis, including a useful example in making the theory understandable.