12-04-2019 | Onderzoeksartikel | Uitgave 3-4/2019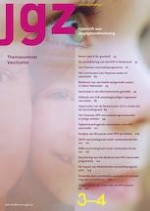 Evaluatie van het HPV-vaccinatieprogramma voor 12-jarige meisjes in Vlaanderen
Tijdschrift:
Auteurs:

C. Vandermeulen, T. Braeckman, M. Roelants, S. Blaizot, K. Maertens, H. Theeten, P. Van Damme, K. Hoppenbrouwers
Belangrijke opmerkingen
Dit onderzoek werd gefinancierd door de Vlaamse gemeenschap, en uitgevoerd in opdracht van de Vlaamse minister bevoegd voor gezondheid.
Samenvatting
Systematische HPV-vaccinatie van 12-jarige meisjes is in Vlaanderen gestart in september 2010. De praktische organisatie ervan verloopt via de Centra voor Leerlingenbegeleiding (CLB), die alle meisjes in het eerste jaar van het secundair onderwijs uitnodigt tot HPV-vaccinatie, en deze vaccinaties zelf uitvoert of op vraag van de ouders en/of de jongere door een arts naar keuze laat uitvoeren (bijvoorbeeld huisarts, kinderarts). Vanaf de start werd in Vlaanderen een hoge vaccinatiegraad bereikt, zoals blijkt uit de vaccinatiegraadonderzoeken voor de geboortecohorten 1998 en 2000, waarvoor respectievelijk een vaccinatiegraad voor volledige HPV-vaccinatie van 83,5% en 89,5% werd genoteerd. Bijna negen op de tien van deze vaccinaties werden door het CLB uitgevoerd, en in veel mindere mate ook door een huisarts of kinderarts. Determinanten voor onvolledige vaccinatie zijn onderwijsachterstand van het meisje, meerdere kinderen in het gezin en een niet-Belgische herkomst van de moeder. In vergelijking met andere Europese landen die een vergelijkbaar programma hebben ingevoerd, scoort Vlaanderen met een opmerkelijk hoge vaccinatiegraad in de doelgroep. Vermoedelijk dragen de implementatie van het Vlaamse vaccinatieprogramma via de CLB (naar het eerdere voorbeeld van de hepatitis B‑vaccinatie), en het vertrouwen dat ouders hierin hebben, in belangrijke mate bij aan dit succes.