01-10-2015 | Beschouwing | Uitgave 10/2015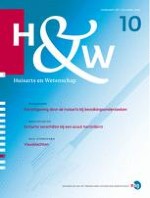 Etnische verschillen bij een acuut hartinfarct
Tijdschrift:
Auteur:

Louise van Oeffelen
Belangrijke opmerkingen
RIVM, Centrum voor Infectieziektebestrijding, Epidemiologie en Surveillance, Anthonie van Leeuwenhoeklaan 9, 3721 MA Bilthoven: dr.ir. A.A.M. van Oeffelen, epidemioloog • Correspondentie: louise.van.oeffelen@rivm.nl • Mogelijke belangenverstrengeling: niets aangegeven.
Deze beschouwing is gebaseerd op het proefschrift: Van Oeffelen AAM. Ethnic inequalities in cardiovascular disease: incidence, prognosis, and health care use [proefschrift]. Utrecht: UMC Utrecht, 2014.
Samenvatting
Van Oeffelen AAM. Etnische verschillen bij een acuut hartinfarct. Huisarts Wet 2015;58(10):518-20.
Er komt steeds meer bewijs voor de aanwezigheid van etnische verschillen in de incidentie van en prognose na een acuut hartinfarct en in het gebruik van cardiovasculaire gezondheidszorg. Door het koppelen van verschillende (landelijke) registraties hebben wij deze verschillen voor de Nederlandse situatie in kaart gebracht. Uit ons onderzoek komt naar voren dat vooral Turkse mannen en Surinamers vaker een acuut hartinfarct krijgen dan autochtone Nederlanders, terwijl Marokkanen dit juist minder vaak krijgen. Verder blijkt dat de incidentie van een acuut hartinfarct in de loop der tijd afneemt bij zowel autochtone Nederlanders als bij de meeste etnische minderheidsgroepen, behalve bij Turkse vrouwen en Marokkanen. Daarnaast hebben de meeste etnische minderheidsgroepen meer kans dan autochtone Nederlanders om na een eerste ziekenhuisopname voor een acuut hartinfarct te overlijden of om opnieuw voor een acuut hartinfarct te worden opgenomen. Ons onderzoek toont verder aan dat etnische minderheidsgroepen vaker voortijdig stoppen met het gebruik van de voorgeschreven cardiovasculaire medicatie. We vonden geen etnische verschillen in de overige zorgaspecten die we hebben onderzocht (het ondergaan van revascularisatieprocedures en het ophalen van medicatie na een acuut hartinfarct).