01-10-2012 | Original article | Uitgave 10/2012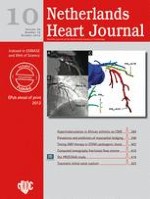 Ethnic differences in ventricular hypertrabeculation on cardiac MRI in elite football players
Tijdschrift:
Auteurs:

T. Luijkx, M. J. Cramer, A. Zaidi, R. Rienks, P. J. Senden, S. Sharma, F. J. van Hellemondt, C. F. Buckens, W. P. Mali, B. K. Velthuis
Abstract
Purpose
Left ventricular (LV) trabeculation may be more pronounced in ethnic African than in Caucasian (European) athletes, leading to possible incorrect diagnosis of left ventricular non-compaction cardiomyopathy (LVNC). This study investigates ethnic differences in LV hypertrabeculation amongst elite athletes with cardiac magnetic resonance (CMR) and electrocardiography (ECG).
Methods
38 elite male football (soccer) players (mean age 23.0, range 19–34 years, 28/38 European, 10/38 African) underwent CMR and ECG. Hypertrabeculation was assessed using the ratio of non-compacted to compacted myocardium (NC/C ratio) on long-axis and short-axis segments. ECGs were systematically rated.
Results
No significant differences were seen in ventricular volumes, wall mass or E/A ratio, whereas biventricular ejection fraction (EF) was significantly lower in African athletes (European/African athletes LVEF 55/50 %,
p
 = 0.02; RVEF 51/48 %,
p
 = 0.05). Average NC/C ratio was greater in African athletes but only significantly at mid-ventricular level (European/African athletes: apical 0.91/1.00,
p
 = 0.65; mid-ventricular 0.89/1.45,
p
 < 0.05; basal 0.40/0.46,
p
 = 0.67). ECG readings demonstrated no significant group differences, and no correlation between ECG anomalies and hypertrabeculation.
Conclusions
A greater degree of LV hypertrabeculation is seen in healthy African athletes, combined with biventricular EF reduction at rest. Recognition of this phenomenon is necessary to avoid misdiagnosis of LVNC.