01-03-2015 | Uitgave 1/2015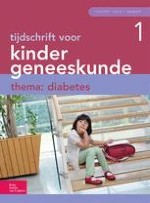 Epidemiologie, classificatie en diagnostiek van diabetes bij kinderen en adolescenten
Tijdschrift:
Auteur:

Mw. dr. Diemud Simm
Belangrijke opmerkingen
Mw. dr. Diemud Simm
, kinderarts-endocrinoloog, Diabeter, Rotterdam, d.simm@diabeter.nl.
Samenvatting
Bij kinderen en jongeren neemt de incidentie van diabetes steeds meer toe. Dit geldt zowel voor type 1- als type 2-diabetes. Door continue vooruitgang in de moleculaire diagnostiek in de laatste twee decennia wordt er daarnaast steeds meer bekend over andere, monogenetische vormen van diabetes. Men gaat ervan uit dat deze vormen van diabetes vaker voorkomen dan tot nu toe bekend was en vaak ten onrechte als diabetes type 1 gediagnosticeerd worden. Bij de diagnose diabetes van een kind is het onderscheid tussen de verschillende diabetesvormen vaak moeilijk, de juiste diagnose is echter van groot belang. Type 1-diabetes is bij kinderen en jongeren veruit de meest voorkomende diabetesvorm. Tijdige diagnose en adequate therapie staan hier centraal. Type 1-diabetes betekent levenslange insulinebehandeling voor de patiënt. Daarom dienen ter bevestiging de pancreasgerelateerde autoantistoffen bepaald te worden. Type 2- diabetes en monogenetische vormen van diabetes – bekend als 'maturity onset diabetes of the young' (MODY) en neonatale diabetes mellitus (NDM) – zijn minder frequent. De juiste diagnose is echter voor de patiënt van groot belang. Bij deze vormen is grotendeels orale therapie mogelijk en deze vorm van behandeling verbetert vaak de bloedglucoseregeling ten opzichte van subcutane insulinetherapie. Voor de passende moleculaire diagnostiek is kennis van de ziektegerelateerde kenmerken belangrijk. Dit artikel is bedoeld om essentiële achtergrondinformatie te leveren voor de juiste stappen in het diagnostische proces bij diabetes van kinderen en adolescenten.