01-09-2017 | Toepassing in de praktijk | Uitgave 3-4/2017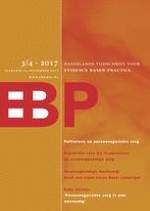 End-of-life care bij IC-patiënten De verpleegkundige zorg
Auteurs:

Marijke Noome, Boukje Dijkstra, Lilian Vloet
Belangrijke opmerkingen
Marijke Noome
ten tijde van het project werkzaam als onderzoeker bij het lectoraat Acute Intensieve Zorg, HAN; momenteel coördinator Praktijkleren en hogeschooldocent HBO-Verpleegkunde, Haagse Hogeschool
Boukje Dijkstra
onderzoeker lectoraat Acute Intensieve Zorg, HAN en IC-verpleegkundige Radboudumc, Nijmegen
Lilian Vloet
lector Acute Intensieve Zorg, HAN en senior onderzoeker, IQ healthcare, Radboudumc Nijmegen
Samenvatting
Intensive care (IC)-afdelingen hebben regelmatig te maken met patiënten bij wie op een zeker moment de behandeling medisch zinloos of onwenselijk wordt geacht.
1)
Jaarlijks worden er ongeveer 85 duizend patiënten op een IC in Nederland opgenomen. Ongeveer 8 procent van deze patiënten overlijdt tijdens de opname op de IC.
2)
Bij ongeveer 85 procent van hen wordt de behandeling gestaakt of wordt er geen nieuwe levensreddende behandeling gestart.
3)
Vanwege de vergrijzing, de complexiteit van IC-patiënten en de toename van ernstig zieke patiënten wordt verwacht dat dit aantal nog verder zal stijgen.
4)