01-08-2010 | Beschouwing | Uitgave 4/2010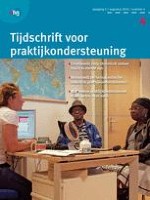 Emotionele zorg chronisch zieken hoort in eerste lijn
Tijdschrift:
Auteurs:

dr. C. C. M. Jonkers, dr.ir. F. Lamers
Belangrijke opmerkingen
Mogelijke belangenverstrengeling: niets gemeld. Het DELTA-onderzoek is gefinancierd door ZonMw (subsidienummer 945-03-047) en is uitgevoerd bij CAPHRI (School for Public Health and Primary Care), vakgroep Sociale geneeskunde, Universiteit Maastricht. Binnenkort start een implementatieonderzoek bij huisartsenpraktijken in oostelijk Zuid-Limburg. Voor meer informatie kunt u contact opnemen met Anneke van Dijk, onderzoeker, vakgroep sociale geneeskunde/huisartsgeneeskunde, Maastricht University:
http://​anneke.​vandijk@hag.​unimaas.​nl
.
programmasecretaris
postdoctoraal onderzoeker
Samenvatting
In de huisartsenpraktijk herkennen en behandelen we niet altijd de emotionele en psychosociale problemen die een chronische ziekte kan veroorzaken. En dat terwijl veel mensen met een chronische ziekte kampen met depressie, angst of onzekerheid. Als we volledige zorg willen bieden aan chronisch zieke patiënten in de huisartsenpraktijk, kunnen we er niet omheen om aandacht te besteden aan deze problemen.
In dit onderzoek voerden verpleegkundigen een minimale psychologische interventie (MPI) uit, gebaseerd op cognitieve gedragstherapie en zelfmanagement. Bij deze aanpak leren patiënten om zelf problemen te definiëren en zij leren te onderzoeken wat zij er zelf aan kunnen doen. Het onderzoeksresultaat was dat de patiënten betere zelfmanagers werden en minder depressieve symptomen hadden. Daarnaast was de rol van de verpleegkundige belangrijk. Deze is minder verzorgend en meer gericht op ondersteuning.
Dit onderzoek richtte zich op oudere patiënten, omdat depressieve symptomen in combinatie met chronische ziekten vaak voorkomen bij ouderen. Juist bij deze groep onderkent men depressieve symptomen lang niet altijd omdat men ze ziet als natuurlijk gevolg van het ouder worden.
Als huisartsenpraktijken deze aanpak verder gaan implementeren, kunnen praktijkondersteuners in plaats van verpleegkundigen de MPI gaan uitvoeren, ingebed in de reguliere zorg die chronisch zieken in de huisartsenpraktijk ontvangen. Binnenkort start in oostelijk Zuid-Limburg een proef waarbij de praktijkondersteuner signaleert welke chronisch zieke patiënten in aanmerking komen voor de nieuwe aanpak en waarbij zij deze patiënten vervolgens behandelt.