01-08-2009 | Empirical Research | Uitgave 7/2009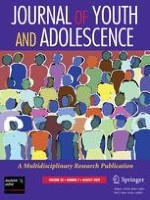 Emotional Distress Among LGBT Youth: The Influence of Perceived Discrimination Based on Sexual Orientation
Tijdschrift:
Auteurs:

Joanna Almeida, Renee M. Johnson, Heather L. Corliss, Beth E. Molnar, Deborah Azrael
Abstract
The authors evaluated emotional distress among 9th–12th grade students, and examined whether the association between being lesbian, gay, bisexual, and/or transgendered (i.e., "LGBT") and emotional distress was mediated by perceptions of having been treated badly or discriminated against because others thought they were gay or lesbian. Data come from a school-based survey in Boston, Massachusetts (
n
= 1,032); 10% were LGBT, 58% were female, and ages ranged from 13 to 19 years. About 45% were Black, 31% were Hispanic, and 14% were White. LGBT youth scored significantly higher on the scale of depressive symptomatology. They were also more likely than heterosexual, non-transgendered youth to report suicidal ideation (30% vs. 6%,
p
< 0.0001) and self-harm (21% vs. 6%,
p
< 0.0001). Mediation analyses showed that perceived discrimination accounted for increased depressive symptomatology among LGBT males and females, and accounted for an elevated risk of self-harm and suicidal ideation among LGBT males. Perceived discrimination is a likely contributor to emotional distress among LGBT youth.