21-04-2016 | Original Article | Uitgave 2/2017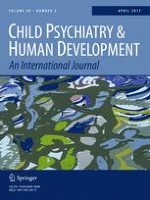 Emotional Abilities in Children with Oppositional Defiant Disorder (ODD): Impairments in Perspective-Taking and Understanding Mixed Emotions are Associated with High Callous–Unemotional Traits
Tijdschrift:
Auteurs:

Richard O'Kearney, Karen Salmon, Maria Liwag, Clare-Ann Fortune, Amy Dawel
Abstract
Most studies of emotion abilities in disruptive children focus on emotion expression recognition. This study compared 74 children aged 4–8 years with ODD to 45 comparison children (33 healthy; 12 with an anxiety disorder) on behaviourally assessed measures of emotion perception, emotion perspective-taking, knowledge of emotions causes and understanding ambivalent emotions and on parent-reported cognitive and affective empathy. Adjusting for child's sex, age and expressive language ODD children showed a paucity in attributing causes to emotions but no other deficits relative to the comparison groups. ODD boys with high levels of callous–unemotional traits (CU) (
n
= 22) showed deficits relative to low CU ODD boys (
n
= 25) in emotion perspective-taking and in understanding ambivalent emotions. Low CU ODD boys did not differ from the healthy typically developing boys (
n
= 12). Impairments in emotion perceptive-taking and understanding mixed emotions in ODD boys are associated with the presence of a high level of CU.