Gepubliceerd in: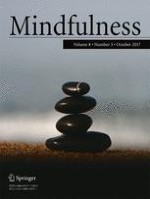 Open Access 28-03-2017 | ORIGINAL PAPER
Emotion Regulation Mediates the Associations of Mindfulness on Symptoms of Depression and Anxiety in the General Population
Gepubliceerd in: Mindfulness | Uitgave 5/2017
Abstract
In the last decade, clinical research on mindfulness and its positive effects on depression and anxiety have gained increased interest. Emotion regulation mediates the effects of mindfulness on mental health in clinical samples and among meditators. The present study examined whether these associations also generalize to the general population. Multi-group structural equation models tested with a sample of 853 adults whether difficulties in emotion regulation mediated the associations between overall mindfulness in addition to the Observe facet with symptoms of depression and anxiety and whether associations were similar among men and women. Emotion regulation partially mediated the associations of overall mindfulness with symptoms of depression and anxiety; associations with Observe were fully mediated. The magnitude of associations was similar among men and women. Mindfulness exerts positive effects on mental health among the general population mostly via improving emotion regulation. The training of mindfulness and emotion regulation may thus benefit mental health not only in clinical populations but also in the general population. Venues for further research are discussed.
Introduction
Method
Participants
Data of 853 persons (450 women; aged from 18 to 87 years,
M
= 34.6, SD = 14.8) from the general population of Germany (45%) and Austria (44%) were used in this study (the remaining 10% were mainly from other central-European countries, 1% did not indicate their nationality). Thirty-three percent of participants indicated that they had at least some experience with mediation and mindfulness. Fourteen percent indicated that they mediated regularly (once a week or more). With regard to reported symptoms of depression and anxiety, 24% of the sample reported clinically relevant levels of depression (T score ≥63), and 20% clinically relevant levels of anxiety (T score ≥ 63), drawing on the adult norms of the BSI (Franke
2000
; see
Measures
).
Procedure
Data were collected by a multitude of independent data collectors through personal contacts and word-of-mouth. Participation was voluntary, anonymous, and unremunerated.
Measures
Five-Facet Mindfulness Questionnaire (FFMQ)
The FFMQ (Baer et al.
2006
; German form: Tran et al.
2013
) consists of 39 items measuring trait mindfulness on five different subscales: Observe, Describe, Nonjudging of Inner Experience, Acting with Awareness, and Nonreactivity to Inner Experience. Respondents rate themselves on a 5-point Likert scale (1 = never, 2 = rarely, 3 = sometimes, 4 = often, 5 = always). For analysis, only items of the short version of the German FFMQ (Tran et al.
2013
) were used. We selected the four items per scale that have shown the best psychometric properties with regard to factorial validity, item discrimination, and reliability, but all seven items of the Nonreactivity subscale to maximize its otherwise only low reliability (Tran et al.
2013
). Items of all subscales, except Observe, were used to compute a total mindfulness score, Cronbach
α
= .85. Observe scores were computed separately, Cronbach
α
= .73.
Difficulties in Emotion Regulation Scale (DERS)
The DERS (Gratz and Roemer
2004
) contains 36 items and six subscales that are summed to form a total score: Non-acceptance of Emotional Responses, Difficulties Engaging in Goal-directed Behavior, Impulse Control Difficulties, Lack of Emotional Awareness, Limited access to Emotional Regulation Strategies, and Lack of Emotional Clarity. Items are rated on 5-point Likert scales (1 = never, 2 = rarely, 3 = sometimes, 4 = often, 5 = always). High scores indicate difficulties in emotion regulation, low scores a relative lack thereof. Cronbach
α
of the total score was .93.
Brief-Symptom-Inventory-18 (BSI-18)
The BSI-18 (German form: Spitzer et al.
2011
) is a short form of the Brief-Symptom-Inventory (BSI; Franke
2000
). The scale assesses 18 psychological symptoms within the past 7 days on a 5-point Likert scale (0 = not at all to 4 = extremely). Three subscale scores (somatization, depression, and anxiety; six items each) and a total score may be computed. Only depression and anxiety scores were used in the present study. Cronbach
α
was .86 (depression) and .76 (anxiety).
Data Analyses
Multi-group structural equation models were fitted to the data, testing whether DERS scores mediated the associations between overall mindfulness (FFMQ total scores without the Observe facet) and of the Observe facet with symptoms of depression and anxiety and whether associations were similar among men and women. The first model comprised both direct and indirect paths from overall mindfulness and Observe to depression and anxiety and constrained unstandardized parameter estimates to equality between men and women; depression and anxiety were allowed to correlate. In the second model, only significant paths were retained, testing specifically whether mediation was partial or full. Mplus 6.11 was used for analysis, using robust maximum likelihood estimation (MLR). For evaluation of model fit, CFI and TLI values >.95, and RMSEA values <.06, were considered to indicate a good fit.
Results
Descriptive statistics are presented in Table
1
. As can be seen, Observe, unlike overall mindfulness, did not correlate with measures of depression and anxiety. Its association with DERS scores was also smaller than for overall mindfulness. The first model had a good data fit (χ
2
(9) = 12.06,
p
= .212, CFI = .997, TLI = .994, RMSEA [90% confidence interval] = .028 [.000–.065]), which indicated also that associations were similar between men and women. Coefficients of direct paths of Observe to depression scores were small and not significant (standardized coefficients < .06,
p
s ≥ .090) and were similarly small for anxiety scores (among men .08,
p
= .027; among women .06,
p
= .030). Hence, direct paths of Observe to depression and anxiety scores were eliminated from the second and final model. The second model also had a good data fit (χ
2
(11) = 17.04,
p
= .107, CFI = .994, TLI = .991, RMSEA = .036 [.000–.067]). Standardized coefficients are displayed in Fig.
1
. Effects of overall mindfulness on depression and anxiety were partially mediated by difficulties in emotions regulation, whereas effects of Observe appeared to be fully mediated. Coefficients of the direct paths of overall mindfulness to depression and anxiety were only small. In total, the mediation model explained 30% (men) and 31% (women) of the total variance of depression scores and 24 and 20% of anxiety scores.
Table 1
Intercorrelations and means and standard deviations of measured variables
(2)

(3)

(4)

(5)

Men

Women

(1) Overall mindfulness (without Observe facet)

.15*

−.71*

−.44*

−.40*

3.41 (0.50)

3.34 (0.48)

(2) Observe

−.23*

−.06

−.01

3.55 (0.77)

3.80 (0.73)

(3) Difficulties in emotion regulation

.55*

.46*

77.73 (19.45)

78.21 (20.37)

(4) Depression

.62*

0.47 (0.66)

0.56 (0.73)

(5) Anxiety

0.50 (0.50)

0.67 (0.62)
×
Discussion
Limitations
As a general population sample, the sample of the present study included also some meditators. However, the proportion of meditators was only small and specific effects of meditation experience did not lie in the focus of the present study. Therefore, effects of meditation experience could not be differentiated, or investigated in addition to, effects of trait mindfulness. This may have affected obtained results.
Specific mechanisms of action by which emotion regulation mediated the association between mindfulness and depression and anxiety symptoms in the general population did not lie in the focus of the present study. Similarly, we did not intend to investigate effects of mindfulness facets separately, except for Observe. More research on a facet and subscale level of trait mindfulness and emotion regulation is needed in the future.
Acknowledgements
Open access funding provided by University of Vienna. Thanks are extended to Sarah Bergner for her contributions to earlier drafts of this manuscript and to all persons who helped with data collection.
Compliance with Ethical Standards
Ethical Approval
All procedures performed in studies involving human participants were in accordance with the ethical standards of the institutional and/or national research committee and with the 1964 Helsinki Declaration and its later amendments or comparable ethical standards.
Informed Consent
Informed consent was obtained from all individual participants included in the study.
Open Access
This article is distributed under the terms of the Creative Commons Attribution 4.0 International License (http://creativecommons.org/licenses/by/4.0/), which permits unrestricted use, distribution, and reproduction in any medium, provided you give appropriate credit to the original author(s) and the source, provide a link to the Creative Commons license, and indicate if changes were made.