01-10-2014 | Original Article | Uitgave 5/2014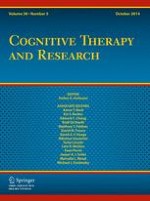 Emotion Regulation in Children with Emotional Problems
Tijdschrift:
Auteurs:

Caroline Braet, Lotte Theuwis, Kim Van Durme, Julie Vandewalle, Eva Vandevivere, Laura Wante, Ellen Moens, Sandra Verbeken, Lien Goossens
Belangrijke opmerkingen
The study is part of a larger project on emotion regulation (PhD of Lotte Theuwis). The data published here were presented on professional European conferences but not published elsewhere.
Abstract
The emotion regulation (ER)-specificity hypothesis assumes that a specific psychological problem is characterized by a specific maladaptive ER strategy. This hypothesis will be investigated for six child-DSM symptom clusters (Study 1) and for depressive symptoms (Study 2). We also investigated whether certain emotion regulation strategies can be detected through different forms of symptom clusters. Study 1 includes 432 school aged non-referred youngsters (60 % girls; age range between 8 and 18 years) and Study 2 includes 128 school aged non-referred youngsters (55 % girls; age range between 10 and 14 years). A self-report questionnaire, FEEL-KJ investigates a wide range of adaptive and maladaptive ER strategies. DSM symptom clusters (affective, anxiety, somatic, conduct, oppositional and ADHD problems) were measured by parent report on the Child Behaviour Checklist; depressive symptoms were measured with the Child Depression Inventory. Youngsters with emotional problems have specifically less adaptive ER strategies. The relation with maladaptive ER strategies can only be detected with self-reported depressive symptoms. ER strategies problem-oriented action and acceptance are transdiagnostically related to both internalizing and externalizing problems. For affective, somatic, conduct and ADHD problems the ER-specificity hypothesis is confirmed. Investigating ER strategies could be of clinical relevance specifically in children with affective, somatic, conduct and ADHD problems. Next, training deficits in the ER strategies Problem-oriented action and Acceptance can be considered as important in the treatment of all children with emotional problems.