01-03-2011 | Wetenschap | Uitgave 2/2011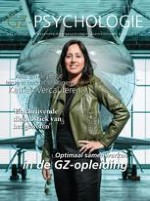 EMDR: over oogbewegingen en piepjes
Tijdschrift:
Auteurs:

Prof. dr. M.A. van den Hout, I.M. Engelhard, M.M. Rijkeboer
Belangrijke opmerkingen
Auteur voor correspondentie
Prof. dr. Marcel van den Hout, Universiteit Utrecht, Klinische en Gezondheidspsychologie, Postbus 80.140, 3508 TC Utrecht tel: 030 – 253 9216, fax: 030 – 253 7482 e-mail: m.vandenhout@uu.nl
Samenvatting
De posttraumatische stressstoornis (PTSS) kan effectief worden behandeld met
eye movement desensitization and reprocessing
(EMDR). Daarbij maken patiënten horizontale oogbewegingen terwijl ze traumatische herinneringen ophalen. Vaak worden de horizontale oogbewegingen vervangen door afwisselend links-rechts aangeboden piepjes.
Er zijn geen klinische studies gedaan naar de effecten van piepjes. Een cruciaal onderdeel van EMDR lijkt te zijn dat tijdens het ophalen van de herinneringen het werkgeheugen (WG) wordt belast. Of, en in welke mate, oogbewegingen of piepjes het WG belasten, kan worden nagegaan met reactietijd-taken (RT-taken). In Experiment I werd inderdaad gevonden dat proefpersonen trager reageren op geluiden wanneer ze tegelijkertijd horizontale oogbewegingen maken. Kennelijk belasten die oogbewegingen het WG. In Experiment II werd gevonden dat proefpersonen niet trager reageren op visuele prikkels wanneer ze tegelijkertijd piepjes horen. Dat suggereert dat piepjes het WG niet belasten. In Experiment III werden piepjes en oogbewegingen rechtstreeks vergeleken, maar nu met een gevoeliger RT-taak. Proefpersonen moesten reageren op pijnloze elektrische prikkels. Men vertraagde ten gevolge van zowel de oogbewegingen als de piepjes. De effecten van oogbewegingen waren veel sterker, maar kennelijk belasten piepjes het WG wel een klein beetje. In Experiment IV werd nagegaan wat het effect was van piepjes en oogbewegingen op de levendigheid en emotionaliteit van aversieve herinneringen. Er werd geen effect gevonden op emotionaliteit. Vergeleken met het alleen ophalen van herinneringen (dus zonder piepjes of oogbewegingen) nam de levendigheid significant af wanneer de proefpersoon piepjes hoorden of oogbewegingen maakten. Het effect van oogbewegingen was echter aanzienlijk en significant sterker dan het effect van piepjes. De gegevens ondersteunen een WG-verklaring van EMDR. Ze suggereren dat en waarom piepjes inferieur zijn aan oogbewegingen.