2013 | OriginalPaper | Hoofdstuk
15. Electrophysiology of Cardiac Arrhythmias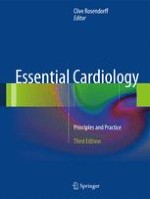 eerste hoofdstuk lezen
Auteurs: MD Sei Iwai, MD Steven M. Markowitz, MD Bruce B. Lerman
Uitgeverij: Springer New York
Abstract
Abnormalities in the initiation and propagation of cardiac impulses result in a variety of arrhythmias. The cardiac action potential consists of five phases that are determined by channels that allow ions to flow passively down their electrochemical gradients, as well as by a series of energy-dependent ion pumps, thereby leading to cardiac contraction.
Sodium, potassium, calcium, and chloride ions are principally responsible for the membrane potential (phase 4). Phase 0 marks the initiation of the action potential. In nodal cells, the pacemaker current, If, initiates each cycle. In "nonpacemaker" tissue, If is absent. In these cells, phase 0 is triggered when the cell membrane is depolarized by adjacent cells. Phase 1 consists of rapid membrane repolarization. This is achieved by inactivation of the inward Na+ current and activation of a transient outward current, Ito. Phase 2, the plateau phase, is characterized by a small change in membrane potential generated by the L-type calcium channel, ICa–L. Rapid repolarization of the cell occurs during phase 3. ICa–L is inactivated in a time-dependent fashion, thus decreasing the flow of cations into the cell, while several outward potassium currents become active. This results in a net outward positive current and a negative transmembrane potential.
The mechanisms of cardiac arrhythmias can be divided into three categories: (1) abnormal or enhanced automaticity, (2) triggered activity, and (3) reentry. This chapter reviews each of these mechanisms, along with the common clinical correlates of each.