Gepubliceerd in: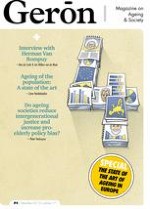 01-12-2015 | Italy
Elder care by migrant workers in private households
Gepubliceerd in: Geron | bijlage 1/2015
Abstract
Migrant workers who are hired by private households play an increasingly important role in long-term care in Italy. This article discusses the ins and outs.
Debora Giampieri & Giovanni Lamura
are affiliated with INRCA (National Institute of Health and Science on Ageing), Ancona, Italy.
E-mail:
g.lamura@incra.it
Italy is, after Japan, the oldest country in the world in terms of share of the older population on the total (i.e. aged either 60 years or older: 28.6%; or 80 years or older: 6.8%; United Nations,
2015
). This means that the demand for long-term care (LTC) is comparatively high. Traditionally, in case of need older Italians have always preferred to be cared for by family members (mainly wives and daughters), rather than refer to residential or home care services. In the last two decades, however, a new phenomenon has deeply changed the Italian LTC sector: the increasing role of care workers who are privately employed by older people. In most cases, they are migrants and mainly women. In this article we analyse the phenomenon, and its recent developments.
Figures and trends
Of the 2.7 million older Italians in need of LTC, only just over 200.000 use residential care facilities (1.8% of the population over 65), compared to 2.5 million living and receiving care at home (Censis,
2015
). In an increasing number of cases, the latter group has limited access to home care services (which reach only 5,6% of the population over 65), and generally quite a limited number of hours per week (Barbabella et al.,
2015
). Although there are no exact and reliable figures on the number of care workers privately hired by families with the specific purpose of providing care to an older person, available estimates report that in 2011 over 2.6 million Italian households (10,4% of the total) have privately employed someone to provide household- based services (such as housekeeping, personal and elder care or babysitting; ISTAT,
2014
). In combination with this figure, we should consider that officially 945.000 domestic workers (the professional category that closely approximates that of a personal assistant in daily care) were registered in 2013, of which 80% had a foreign nationality and a similar share was represented by women (INPS,
2014
). Other estimates, however, hint that this number amounts to over 1,65 million domestic workers, including those hired as undeclared staff. This represents a jump of 53% compared to the 2001 figures, with projections suggesting that their number might reach over 2,15 million workers by 2030 (Censis and Fondazione ISMU,
2013
).
The reasons behind this phenomenon
The number of migrant care workers privately employed by Italian households finds its origin, on the one hand, in the availability of a large reservoir of cheap labour force coming especially from Eastern Europe in the 90s and in the first decade of the new millennium, following the collapse of the Soviet Union (what we might call a
push factor
). At that time, the Italian border was most easily crossed along the former 'iron curtain' between Eastern and Western European countries. On the other hand, the growing number of older Italians in need of care was becoming an increasing challenge for the traditional familial model, which was based on care provided mainly by women in their 50s (i.e. daughters and daughters-inlaw of the person who is cared for), but who had been entering the formal labour market more and more (what we may consider as
pull factors
; Lamura et al.,
2009
). In this perspective, the extensive presence of migrant care workers has relieved many Italian women from the burden of everyday care for their own older parents and relatives, allowing them to remain actively engaged in the labour market (Censis,
2015
). However, an additional, peculiar aspect is the approach adopted by Italian policy makers, who considered this 'revolution from the bottom' not so much as a trend to be fought, but rather as a development that had to be facilitated further via a series of financial and other legal measures.
Financial and legal measures
Generally speaking, the employment of (migrant) care workers by households is based on the private purchase by the latter of care services performed by individuals. This is mainly funded through the personal income of the household members (i.e. the older person receiving care, but often also of his/her caregivers) – for a total expenditure which currently reaches over 9 billion euros per year – and integrated by cash-for-care payments (Censis,
2015
).
These payments are a longstanding component and feature of the Italian welfare system. Since the early '80s Italian citizens who are no longer independent (as assessed by local assessment units) have the right to apply for either a disability pension (if they are at working age, until 65) and/or for a care allowance (at any age above 18). The latter is a
yes/no
benefit (it has no intermediate levels, either all or nothing), and amounts to circa 500 euros per month. In 2014, over 12% of older Italians benefitted from such a measure (with a strong regional variation), for a total amount of 9,6 billion euros, equivalent to almost half of the whole public LTC expenditure (Censis,
2015
). In addition to these benefits provided by the State, many municipal, provincial and/ or regional administrations pay local allowances between 200 and 500 euros (in many cases these are integrated and paid on top of the State allowances) to low income families, often with the explicit purpose of preventing undeclared working conditions (see below), and in combination with accreditation and training schemes for migrant care workers (Barbabella et al 2013).
The combined effect of the different benefits allows many older Italians with a severe disability to count on allowances that accumulated from 500 to1000 euros per month. This amount is not accidentally close to what is often paid to migrant care workers who are hired on an undeclared basis as live-in care staff ( they cohabit with the person they care for, sharing board and lodging). In addition to the monetary benefits, households that regularly hire a care worker can deduct taxes up to 1.550 euros per year for the social contributions paid, while low-income households (less than 40.000 euros per year) can also deduct 19% of the salary paid (up to 2.100 euros per year).
Migrant care work in times of crisis
Despite the benefits made available by national and local welfare schemes, the costs of employing a (migrant) care worker are to a large extent still paid by the households. According to available estimates, only about 31% of all households employing a care worker receive public support (20% the State care allowance and 9,4% by fiscal deduction; CENSIS and Fondazione ISMU,
2013
). Under such circumstances, it is no surprise that, in the last few years - which were characterised by the longest and deepest economic crisis since the Second World War - the role of migrant care work in the Italian LTC system has also been affected and has started to change. More and more Italian families actually report financial difficulties, and 561.000 households state that, in order to ensure appropriate care for their dependent older members, they have been forced to either break into their savings, run into debt or sell their own home (Censis,
2015
). An additional 910.000 households report they have been making economic sacrifices to meet the expenditures related to the LTC needs of older family members. This includes payments to privately employ migrant care workers, especially if they are hired on a regular basis with a fixed-term (and therefore more costly) contract.
The empirical evidence seems to indicate, though, that only a minority of migrant care workers are hired on a regular basis. Because of financial reasons, not many Italian families are prepared anymore to stipulate a regular contract with them (Pasquinelli and Rusmini
2013
). This is partly due to the fact that the available fiscal deductions are considered too limited in their extent (as they cover only part of the additional costs of the social contributions). Another reason is the obligation to hire care workers from a list of accredited ones (a step which is often required to receive local benefits). This prevents families from choosing their own care worker, while they would rather select one by word of mouth as this is considered to be the most reliable way to ensure that the employed care worker is a valuable one (Pasquinelli and Rusmini,
2009
; Tidoli and Marotta,
2011
).
It can therefore be stated that this phenomenon – which is actually quite common to many other countries and especially (but not only) to the Mediterranean area – rests mainly on a structural, reciprocal convenience for the two parties involved. That is to say, families pay less and care workers receive more for the same number of working hours - a vicious circle that has become stronger by the economic recession (Pasquinelli,
2012
). A recession which, it has to be underlined, has recently caused more and more Italians to (re) enter this sector as care workers, as a result of the difficulty to find jobs in other areas. It also suggests that this not entirely new segment of the Italian welfare system - once considered a temporary solution to the lack of appropriate and timely responses by Italy's LTC sector - is now likely to remain a structural component of it for a long time.