25-08-2020 | Empirical Research | Uitgave 11/2020 Open Access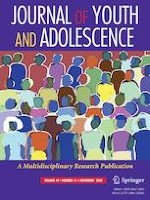 Effortful Control and Community Violence Exposure as Predictors of Developmental Trajectories of Self-serving Cognitive Distortions in Adolescence: A Growth Mixture Modeling Approach
Tijdschrift:
Auteurs:

Concetta Esposito, Gaetana Affuso, Mirella Dragone, Dario Bacchini
Belangrijke opmerkingen
Publisher's note
Springer Nature remains neutral with regard to jurisdictional claims in published maps and institutional affiliations.
Introduction
Social-cognitive theories posit that people act upon their interpretation of social events (Crick and Dodge
1994
). According to Bandura's (
1986
) social-cognitive formulations, the cognitive evaluation of events that take place in the child's environment, how the child interprets these events, and how competent the child feels in responding in various ways provide the basis for child's purposeful action. Growing up in a violent environment may lead children to see the world as a hostile and dangerous place (Guerra et al.
2003
; Schwartz et al.
2000
), and that violence itself is a useful means for conflict resolution (Dodge et al.
2006
). The internalization of these schemas of the world, along with the development of normative beliefs about violence, amplify the risk for behaving aggressively. In terms of such cognitive process models, self-serving cognitive distortions well represent schemas that influence the individual's encoding, interpretation, attribution, and evaluation, and thereby, impact the individual's behavior in social situations (Barriga et al.
2001
). However, to date, few studies have systematically examined the precursors of biases affecting moral cognition (Dragone et al.
2020
; Hyde et al.
2010
). Nonetheless, it is noteworthy that the processing of information for behaving in a specific way is a function of one's ability to assemble action-relevant information that can be used to guide action. This capability supports the exhibition of self-control by directing attention, delaying or suppressing inappropriate responses, and moderating emotional arousal (Wikström and Treiber
2009
). Overall, a number of studies have suggested a key-role of self-regulatory abilities in the development of moral emotions and behavior (Eisenberg et al.
2016
), whereas studies examining possible associations between self-regulation and moral cognition are scarce. Starting from these considerations and using a social-cognitive perspective, the current investigation is intended to fill the gap in the literature by investigating the role of exposure to community violence and self-regulatory abilities—representing risk factors at environmental and individual levels of the individual's ecology—in predicting specific longitudinal trajectories of moral cognitive distortions.
Cognitive Distortions in the Framework of Moral Developmental Delay
The notion of self-serving cognitive distortions was introduced by Gibbs et al. to describe young offenders' inaccurate or biased ways of attending to or conferring meaning upon experiences (e.g., Barriga and Gibbs
1996
; Gibbs et al.
1995
). Such cognitive errors were defined as "self-serving" as they assist the individual to self-justify acts that are in contrast with moral beliefs, such as antisocial behaviors, thus protecting the self from developing a negative self-image. Following Gibbs' (
2013
) theory of moral development, self-serving cognitive distortions originate from a delay that occurs in moral development.
There are several aspects of Gibbs' approach to the study of morality that are common to other current developmentalist theories (e.g., social domain theory; Smetana
2006
; Turiel
1998
), such as the importance of social experiences in constructing children and adolescents moral judgments (Arsenio and Lemerise
2004
; Dodge and Rabiner
2004
). However, differently from other moral theorists that emphasize the role of the social context, Gibbs retains the Kohlberg's cognitive-developmental perspective (Kohlberg
1984
), hypothesizing four stages of moral development, grouped into immature and mature levels (2013). This perspective based on developmental stages has been supported in reviews of studies conducted in over 40 countries around the world (Gibbs
2013
), specifically showing an age trend of moral decision-making from immature to mature stages. Starting from a re-conceptualization of Kohlberg's (
1984
) moral developmental theory, Gibbs assumes that the sequence of developmental stages identified by Kohlberg is not an obligatory process, and a moral delay can happen, with the persistence of the earliest levels of morality in adolescence and adulthood. As reported by Gibbs (
2013
), in this stage of arrested moral development, adolescents display cognitive biases (i.e., cognitive distortions), making her/him judge their moral transgression as acceptable and does not feel the deviant behavior as dissonant with common moral standards. Organizing the extant literature on cognitive distortions, Gibbs et al. (
1995
) introduced a four-category typological model of self-serving cognitive distortions: self-centered, blaming others, minimizing/mislabeling, and assuming the worst. "Self-Centered" cognitive distortions are defined as attitudes wherein the individual focuses on his/her own opinions, expectations, needs, and rights to such an extent that the opinions or needs of others are rarely considered or respected. "Blaming Others" involves cognitive schemas of misattributing the blame for one's own behavior to sources outside the individual (i.e., external locus of control). "Minimizing" is defined as distortions, where the antisocial behavior is seen as an acceptable, perhaps necessary, way to achieve certain goals. "Mislabeling" is defined as a belittling and dehumanizing way of referring to others. Finally, "Assuming the Worst" represents cognitive distortions where the individual attributes hostile intentions to others, considers the worst-case scenario as inevitable, or sees his/her own behavior as beyond improvement.
In literature, there are several other theoretical accounts of self-serving cognitive distortions (e.g., Bandura's moral disengagement, or Sykes' and Matza's neutralization theory), that, however, do not overlap with Gibbs et al.'s (
1995
) work. Specifically, a first consideration one might give in comparing Bandura's moral disengagement perspective with Gibbs et al.'s self-serving cognitive distortions concerns the moral functioning they hypothesized as being behind the cognitive mechanisms that lead to behave (or not behave) aggressively. Indeed, according to Bandura, moral (or immoral) agency depends on self-regulatory processes of individual moral standards and anticipatory self-sanctions that must be activated to come into play (Bandura
2002
), rather than depending on moral reasoning. As a result, selective activation and disengagement of internal control would permit various types of conduct with the same moral standards. Self-serving cognitive distortions, as theorized by Gibbs et al. (
1995
), instead, seem to be relatively stable cognitive mechanisms that, once internalized, are applied by the individual in the interaction within the social environment. Furthermore, the conceptualization of the relationship between cognitive distortions and antisocial or aggressive behavior is thought to be quite different across models. While other theories posit that they precede (or occur during) antisocial behavior, Gibbs et al. (
1995
) suggest the possibility of multidirectional causality, so that self-serving cognitive distortions may precede and/or follow behavior. In their attempt to integrate various neutralization concepts in a unique moral neutralization approach, Ribeaud and Eisner (
2010
) noticed that self-serving cognitive distortions, as conceptualized by Gibbs et al., did not totally overlap with Sykes and Matza (
1957
) or Bandura's (
2002
) moral disengagement, in that they are theorized to more specifically conflate moral rationalizations with biased information processing. Assuming the worst, in particular, which partly overlaps Bandura's concept of external attribution of blame, overcomes such a concept, including the attribution of hostile intentions to others, that is typical of social information processing models (Crick and Dodge
1994
).
Effortful Control and Community Violence as Precursors of Trajectories of Cognitive Distortions
The Present Study
The central goal of this study was to investigate how low effortful control and exposure to community violence were associated with developmental trajectories of moral cognitive distortions. As this was the first study focusing on self-serving cognitive distortions as theorized by Gibbs, no specific hypotheses were done about developmental trajectories. Overall, it was expected that the membership to the most "distorted" group (e.g., high levels of cognitive distortions that show stability or increment over time) was predicted by low effortful control and high frequency of exposure to community violence. Adolescent gender and social desirability were included as controls to ensure that the associations of effortful control and violence exposure with trajectories of CDs were adjusted for their potential confounding effects.
Methods
Results
Descriptive statistics and correlations between all variables used in the study are shown in Table
1
. As can be observed, all the study's variables significantly associated each other. Females reported marginally significant lower levels of community violence exposure and cognitive distortions at T2 and T3.
Table 1
Correlations, means and standard deviations (SDs)
| | 1 | 2 | 3 | 4 | 5 | 6 | 7 | Range | Mean | SD |
| --- | --- | --- | --- | --- | --- | --- | --- | --- | --- | --- |
| 1. Gender (female) | 1 | | | | | | | | | |
| 2. EC T1 | −0.05 | 1 | | | | | | 1–5 | 3.40 | 0.50 |
| 3. ECV T1 | −0.08* | −0.26*** | 1 | | | | | 1–5 | 1.60 | 0.60 |
| 4. CDs T1 | −0.03 | −0.47*** | 0.33*** | 1 | | | | 1–6 | 2.31 | 0.88 |
| 5. CDs T2 | −0.11** | −0.45*** | 0.28*** | 0.61*** | 1 | | | 1–6 | 2.25 | 0.89 |
| 6. CDs T3 | −0.16** | −0.41*** | 0.26*** | 0.45*** | 0.54*** | 1 | | 1–6 | 2.22 | 0.94 |
| 7. CDs T4 | −0.27*** | −0.34*** | 0.26*** | 0.44*** | 0.46*** | 0.53*** | 1 | 1–6 | 2.03 | 0.92 |
| 8. Social desirability | −0.25*** | 0.30*** | −0.06 | −0.18*** | −0.11** | −0.06 | 0.05 | 1–5 | 3.07 | 0.66 |
The model fit information for all estimated models is presented in Table
2
. The significant change of −2LL between the no-growth and linear growth models suggested that the linear growth model fit the data significantly better than the no-growth model. The change of −2LL was also marginally significant between the linear and quadratic growth models. However, the inspection of the other model fit indices and parameters indicated a better fit for the linear model.
Table 2
Fit indices and means of the intercept, linear, and quadratic slopes for the baseline model (one-class model)
| | | Baseline model (M1) | |
| --- | --- | --- | --- |
| | No-growth model | Linear growth model | Quadratic growth model |
| −2log likelihood | 7054.41 | 6983.52 | 6973.51 |
| AIC | 7060.41 | 6995.52 | 6993.51 |
| BIC | 7074.48 | 7023.65 | 7040.40 |
| RMSEA | 0.11 | 0.07 | 0.10 |
| Intercept mean | 2.23*** | 2.32*** | 2.30*** |
| Slope mean | | −0.07*** | 0.00 |
| Quadratic slope mean | | | −0.02 |
| Δ −2log likelihood | | | |
When examining the model convergence of GMM, as noted by asterisks in Table
3
, several models did not properly converge. Specifically, the variance of the slope was negative in one or more of the classes in the two- and three-class means models (M3) and covariance models (M4). In the four-class M4 and M5, the best log likelihood value was not replicated, indicating that additional classes are unlikely to produce viable results. Given these results, our evaluation was then specifically focused on M2 and M5.
Models

Fit statistic

Latent class growth (M2)

Means (M3)

Means + covs (M4)

Means + covs + residual variances (M5)

2-class

3-class

2-class*

3-class*

2-class*

3-class*

4-class**

2-class

3-class

4-class**

Proportions

0.61/0.39

0.49/0.39/0.12

0.78/0.22

0.04/0.15/0.81

0.42/0.58

0.18/0.41/0.41

0.44/0.56

0.39/0.45/0.16

AIC

7094.76

6950.61

6854.77

6802.64

6679.47

6618.19

6161.58

6001.21

BIC

7122.89

6992.80

6896.96

6858.90

6735.73

6702.59

6222.53

6094.97

ABIC

7103.83

6964.22

6868.38

6820.79

6697.63

6645.43

6181.25

6031.46

Entropy

0.77

0.75

0.77

0.83

0.65

0.64

0.76

0.75

<0.001

0.05

<0.001

0.56

<0.001

0.007

<0.001

<0.001

<0.001

0.06

<0.001

0.57

<0.001

0.008

<0.001

<0.001
With respect to the information criteria (BIC, AIC, and sample size adjusted BIC), it was evident that there was a decrease when moving from one to two classes and from two to three classes in both models (M2 and M5). The likelihood ratio tests for M2 and M5 indicate that the two-class model was preferred to the one-class model (all
p
s < 0.001), and the three-class model was preferred to the two-class model (
p
 = 0.05 and < 0.001, respectively). The entropy statistic was higher for the two-class LCG model (0.77) compared with the three-class LCG and two- and three-class means, covariances, and residual variance models. However, for the three-class models, the entropy value was the same for M2 and M5; diagonal probabilities for the three-class M5 ranged from 0.87 to 0.91, and from 0.82 to 0.91 in the three-class M2.
Based on this information, the three-class means, covariances, and residual variance model (M5) was selected as the best fitting model. The identified three trajectories classes are shown in Fig.
2
: (1) moderately high and stable cognitive distortions (
N
 = 311), (2) moderate and decreasing cognitive distortions (
N
 = 363), and (3) low and decreasing cognitive distortions (
N
 = 129).
×
Parameter estimates from this model are shown in Table
4
. Specifically, the mean rate per year of cognitive distortions was not statistically significant for class 1. Class 2 and class 3 included adolescents with a significant negative mean rate of change over time. In class 1 and 2, there was a significant negative covariance between the intercept and slope, indicating that CD levels tend to decrease more slowly over time in adolescents who had higher values at T1. Moreover, there were significant between-person differences at the intercept in all classes, whereas significant between person differences in the slope were found for class 1 and 2.
Table 4
Parameter estimates for the chosen model: 3-class mean + covs + residual variances
Class 1

(high and stable;

N

 = 363)

Class 2

(moderate and decreasing;

N

 = 311)

Class 3

(low and decreasing;

N

 = 129)

Average probability of class membership

0.94

0.83

0.85

Latent variable means

 Intercept mean

2.78***

2.09***

1.41***

 Slope mean

−0.002

−0.15***

−0.08***

Latent variable covariances

 Intercept variance

0.31***

0.16***

0.05*

 Slope variance

0.05**

0.01*

0.00

 Intercept-slope covariance

−0.09**

−0.03**

−0.01

 Residual variance

0.64***

0.12***

0.02***
Precursors of Developmental Trajectories of Cognitive Distortions
Table
5
presents the logistic coefficients and odds ratio resulting from the multinomial logit regression analysis, in which classes were regressed on exposure to community violence and effortful control at T1, controlling for gender and social desirability. In interpreting the multinomial coefficients, class 2 (moderate and decreasing) was used as the reference class. Specifically, the log-odds of being in class 1 (moderately high and stable) in comparison to the log-odds of being in class 2 increased with the amount of exposure to community violence. Similarly, low levels of effortful control and being male increase the log-odds of being in class 1 relative to class 2, whereas high effortful control increase the log-odds of being in class 3. No significant associations were found between social desirability and trajectories of class membership.
Table 5
The logit coefficients of predictors from the manual 3-step approaches
Manual 3-step approach

Low and decreasing CDs a

High and stable CDs a

Predictors

Est.

OR

Est.

OR

Male (vs. female)

0.20

1.22

−1.08***

2.94

ECV (T1)

0.24

1.27

1.38***

3.97

EC (T1)

1.92***

6.82

−2.65***

14.15

Social desirability

0.28

1.32

0.34

1.40
Discussion
Self-serving cognitive distortions have been described as thinking errors that originate from the individual persistence into immature moral judgment stages during adolescence and adulthood, increasing the risk of individual's engagement in antisocial or immoral conducts (Gibbs
2013
). The aim of the current study was to investigate the trajectories of moral cognitive distortions in adolescence, and the simultaneous contribution of effortful control and community violence exposure as individual- and environmental-level factors, respectively, in making adolescents more vulnerable to use cognitive distortions when interpreting social situations. Using a person-centered approach, developmental trajectories of cognitive distortions in adolescence were first identified. Then, effortful control and being exposed to community violence were tested as potential predictors of those trajectories, controlling for adolescent gender and social desirability.
Overall, three trajectories were identified to best explain variation in cognitive distortions over time. Approximately 45% of the sample demonstrated a moderately high and relatively stable trajectory of cognitive distortions, whereas 39% reported initially moderate levels of cognitive distortions that decreased over time. Finally, a small number of participants (16%) showed low initial levels of cognitive distortions, with a decreasing tendency over time.
The identified trajectories were partially consistent with those identified by Paciello et al. (
2008
). The authors found a general decline of moral disengagement over time that, in their opinion, could reflect changes in cognitive and social structures occurring during adolescence and that, in turn, promote moral reasoning and then moral agency (Eisenberg
2000
). Following Gibbs' theory, the resulted declining trajectories of the current study, including about half size of the study's sample, could be interpreted as a means of a developmental process, through which, along with other cognitive and socioemotional achievements, youths progress from a relatively superficial level, characterized by schema generating a higher use of egocentric and pragmatic self-serving thinking errors or cognitive distortions, to a more mature level of interpersonal and sociomoral reasoning, in which they can take on the roles or consider the perspective of others (Gibbs
1995
). This perspective that recognizes that moral maturity occurs over time is also supported by research adopting the moral domain approach (Tisak and Turiel
1988
) with children of different age. More specifically, moral domain theorists have showed that understanding within the moral domain develops from a focus on concrete harm in early childhood to an understanding of fairness in later childhood (Smetana
2006
). Differently from cognitive-developmental theorist, however, the domain theory does not elaborate on the cognitive or affective processes that allow for this development to occur.
The other half size of the study's sample was identified in the trajectory with initially moderately high and, over time, stable cognitive distortions. This finding highlights a high likelihood, for high school youths, to display a persistent and pronounced egocentric bias that consolidates into cognitive distortions (Barriga et al.
2000
), perhaps reflecting a prolonged immature or superficial moral judgment stage. The condition where cognitive distortions persist over time has been described by Gibbs as a "moral developmental delay," that has been widely documented among antisocial and delinquent youth (Gibbs
2013
).
Predictors of Cognitive Distortions Trajectories
Limitations and Future Directions
In interpreting these findings, some limitations must be considered. First, all measurements in the study relied exclusively on adolescent self-reporting. Despite the effects were controlled for social desirability in the current study, future studies may benefit from utilizing a multi-informant approach (e.g., parent reports for temperamental constructs) jointly with self-reporting measures. Furthermore, data concerning the frequency of being exposed to community violence could benefit from a more objective and comprehensive description of violence in the everyday lives of adolescents, including official data from national census agencies and police departments. Another limitation concerns the generalizability of the results, as the study included a sample from a limited geographic area in Southern Italy. As described above, the context where data were collected is characterized by serious social problems, that expose adolescents to high risk situations (e.g., violence exposure, youth delinquency, gang affiliation). This might shape culture-specific beliefs and values, that in turn might influence an individual's cognitions and behaviors (Bacchini et al.
2015
). More research is needed to confirm that the explanatory model proposed in this study applies to populations from other, possibly differing, cultural contexts. Furthermore, based on the current findings, future studies should investigate potential gender-related differences in pattern of development of cognitive distortions.
Conclusion
The current findings extend the literature concerning the role of individual self-regulatory mechanisms and environmental factors on the development of moral cognition. Using a person-centered approach, the findings of the present study indicated that: (1) most adolescents exhibited declining levels of self-serving cognitive distortions over time, and (2) adolescents who exhibited initially higher levels of cognitive distortions also showed a tendency to remain stable over time; they were typically male youth, with low effortful control and a high frequency of being exposed to community violence. These results point to the importance of considering moral development as a process involving multiple levels of individual ecology. Future studies may deepen the investigation of other social, cognitive, and biological factors that could influence trajectories of moral cognition, both for expanding knowledge about the development and persistence of biases in moral cognition in adolescence (and their adjustment-related outcomes), and to design appropriate interventions that could prevent adolescents from developing these biases. The findings of the current study call specific attention to the need to support children and adolescents in developing skills that could help them to successfully cope with violence and high-risk environments, including self-regulatory abilities, social problem-solving skills and moral education.
Acknowledgements
Open access funding provided by Università degli Studi di Napoli Federico II within the CRUI-CARE Agreement.
Authors' Contributions
C.E. conceived of the study, participated in its design and coordination, performed the statistical analysis and drafted the paper; G.A. participated in the design and coordination of the study and helped to interpret the data and draft the paper; M.D. performed the measurement and helped to draft the paper; D.B. conceived of the study, participated in its design and coordination and helped to draft the manuscript. All authors read and approved the final manuscript.
Data Sharing and Declaration
This article's data will not be deposited.
Compliance with Ethical Standards
Conflict of Interest
The authors declare that they have no conflict of interest.
Ethical Approval
All procedures performed in studies involving human participants were in accordance with the ethical standards of the institutional and/or national research committee and with the 1964 Helsinki Declaration and its later amendments or comparable ethical standards. The study was approved by the Ethics Committee of University of Naples "Federico II," Department of Humanistic Studies.
Informed Consent
Written informed consent was obtained from the parents. Informed assent was obtained from all adolescent participants included in the study.
Open Access
This article is licensed under a Creative Commons Attribution 4.0 International License, which permits use, sharing, adaptation, distribution and reproduction in any medium or format, as long as you give appropriate credit to the original author(s) and the source, provide a link to the Creative Commons license, and indicate if changes were made. The images or other third party material in this article are included in the article's Creative Commons license, unless indicated otherwise in a credit line to the material. If material is not included in the article's Creative Commons license and your intended use is not permitted by statutory regulation or exceeds the permitted use, you will need to obtain permission directly from the copyright holder. To view a copy of this license, visit
http://​creativecommons.​org/​licenses/​by/​4.​0/​
.
Publisher's note
Springer Nature remains neutral with regard to jurisdictional claims in published maps and institutional affiliations.