01-08-2014 | Original Paper | Uitgave 8/2014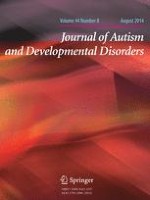 Efficiency of Lexical Access in Children with Autism Spectrum Disorders: Does Modality Matter?
Tijdschrift:
Auteurs:

Keely Harper-Hill, David Copland, Wendy Arnott
Abstract
The provision of visual support to individuals with an autism spectrum disorder (ASD) is widely recommended. We explored one mechanism underlying the use of visual supports: efficiency of language processing. Two groups of children, one with and one without an ASD, participated. The groups had comparable oral and written language skills and nonverbal cognitive abilities. In two semantic priming experiments, prime modality and prime–target relatedness were manipulated. Response time and accuracy of lexical decisions on the spoken word targets were measured. In the first uni-modal experiment, both groups demonstrated significant priming effects. In the second experiment which was cross-modal, no effect for relatedness or group was found. This result is considered in the light of the attentional capacity required for access to the lexicon via written stimuli within the developing semantic system. These preliminary findings are also considered with respect to the use of visual support for children with ASD.