21-04-2017 | Original Paper | Uitgave 7/2017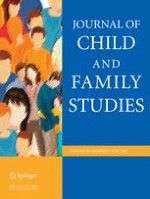 Effects of Individual, Peer, and Family Factors on Child Alcohol Abuse in Ukraine
Tijdschrift:
Auteur:

Viktor Burlaka
Abstract
The present study aims to estimate the relationship between child alcohol problems, sociodemographic characteristics, externalizing behavior, parental and peer alcohol use, and family violence by using a cross-sectional community sample of 320 Ukrainian children (9–16 years of age, 50% boys) and their parents. Participants answered questions from the Drinking and Drug History and Current Use Patterns Questionnaire, the Revised Conflict Tactics Scales, the Alabama Parenting Questionnaire, and the Child Behavior Checklist. Fifty-two percent of children reported alcohol use within the past year and 32% experienced alcohol-related problems. The average number of reported alcohol problems was 11.19 (SD = 63.65). Five robust regression models examined correlates of early problem drinking in Ukraine. The final model indicated older child age (
β
 = 0.21,
p
 < 0.001), more symptoms of externalizing behavior (
β
 = 0.17,
p
 < 0.01), and higher peer alcohol use (
β
 = 0.23,
p
 < 0.001) were significantly and positively associated with child alcohol problems. Results of the final model explained 32% of the variance in child alcohol problems, F(8, 311) = 10.76,
p
 < 0.001. In conclusion, the findings suggest that older age, exposure to high-risk alcohol permeated peer environments, impulsivity, and rule-breaking behaviors are linked with the trajectory of early alcohol abuse among Ukrainian children. Mechanisms that reduce the harmful influence of these risk factors on alcohol consumption need to be in place.