25-09-2017 | ORIGINAL PAPER | Uitgave 3/2018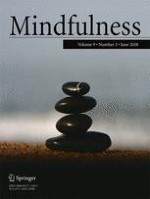 Effects of a Brief Mindful Eating Induction on Food Choices and Energy Intake: External Eating and Mindfulness State as Moderators
Tijdschrift:
Auteurs:

Xavier Allirot, Marta Miragall, Iñigo Perdices, Rosa Maria Baños, Elena Urdaneta, Ausias Cebolla
Abstract
Mindfulness techniques have been shown to have protective effects on eating. However, no studies have been conducted on the effect of a single mindful eating (ME) induction on subsequent food choices and intake, and the way eating behaviors and the mindfulness state might moderate this effect. The objectives of the present study were to assess (1) the effect of an ME induction on food choices, intake, liking, and appetite, and (2) whether eating behaviors and the mindfulness state moderate the effect on intake. Seventy adult women (35.27 ± 1.27 years old; body mass index 22.79 ± 0.44 kg/m
2
) were invited to a tasting session. Participants in the mindful group received the instruction to taste the foods in a mindful manner (without meditation training). Participants in the control group were instructed to taste the foods with no specific recommendations. Afterwards, participants were offered an individual buffet-style snack containing the foods previously tasted. During this snack, the mindful group showed a reduced number of high-energy-dense food items eaten (
p
= .019) and a decreased energy intake (
p
= .024), compared to controls. No differences were found between groups on appetite and liking. Moderation analyses showed that the ME induction was able to reduce the total number of food items and energy intake in participants who combined higher levels of external eating and lower levels of mindfulness state. Results encourage the promotion of ME, particularly in external eaters with low mindfulness state levels, and they support ME as a strategy to promote healthy eating.