19-09-2018 | Artikelen | Uitgave 4/2018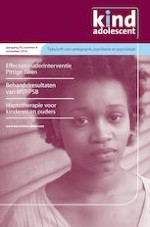 Effectonderzoek naar de ouderinterventie Pittige Jaren
Tijdschrift:
Auteurs:

Dr. Joyce Weeland, Dr. Rabia R. Chhangur, Dr. Daniëlle van der Giessen, Prof. dr. Walter Matthys, Prof. dr. Bram Orobio de Castro, Prof. dr. Geertjan Overbeek
Belangrijke opmerkingen
Joyce Weeland, Rabia Chhangur, en Walter Matthys zijn gecertificeerde The Incredible Years (IY) -groepsleiders. Joyce Weeland, Rabia Chhangur en Geertjan Overbeek zijn betrokken geweest bij de uitvoering van de interventie binnen de huidige studie. Geen van de auteurs heeft financieel belang bij de interventie of de resultaten van het huidige onderzoek.
J. Weeland en R.R. Chhangur hebben in gelijke mate bijgedragen aan het onderzoek en artikel.
Samenvatting
Deze studie onderzoekt of de preventieve variant van de ouderinterventie Pittige Jaren (in het Engels The Incredible Years; IY) effectief is in het verminderen van externaliserende gedragsproblemen en of veronderstelde moderatoren (d.w.z., ernst van probleemgedrag bij aanvang van de interventie, geslacht kind, sociaaleconomische status, gezinssamenstelling en het aantal interventiesessies waaraan ouders deelnamen) invloed hebben op deze effectiviteit.
In een gerandomiseerd gecontroleerd onderzoek, bestaande uit een voormeting, nameting en follow-up, zijn er data verzameld (zowel via vragenlijsten als observaties) van 387 ouders en hun kinderen in de leeftijd van 4–8 jaar (
M
leeftijd = 6,21 jaar;
SD
 = 1,33; 55,3 % jongens).
IY leidde tot een toename van positief opvoedgedrag (zowel gerapporteerd als geobserveerd) en een afname van negatief opvoedgedrag en gedragsproblemen bij kinderen (gerapporteerd). We vonden echter geen systematisch bewijs dat de onderzochte moderatoren deze effecten beïnvloedden. Dit wijst erop dat de effecten van IY generaliseerbaar zijn naar een brede populatie in een preventieve setting.