16-09-2015 | Uitgave 3/2015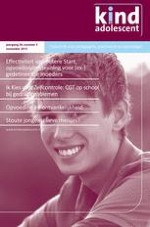 Effectiviteit van Betere Start, opvoedondersteuning voor (ex-)gedetineerde moeders
Tijdschrift:
Auteurs:

Dr. Ankie T. A. Menting, Prof. dr. Bram Orobio de Castro, Prof. dr. Walter Matthys
Belangrijke opmerkingen
Dit onderzoek werd mogelijk gemaakt door financiële en organisatorische ondersteuning van het ministerie van Veiligheid en Justitie. Een deel van deze bevindingen is ook verschenen als Menting, A. T. A., Orobio de Castro, B., Wijngaards-de Meij, L. D. N. V., & Matthys, W. (2014). A trial of parent training for mothers being released from incarceration and their children.
Journal of Clinical Child and Adolescent Psychology, 43,
381–396. doi:
10.​1080/​15374416.​2013.​817310
Samenvatting
Betere Start is een opvoedtraining voor (ex-)gedetineerde moeders om gedragsproblemen bij hun twee- tot tienjarige kinderen te voorkomen, bestaande uit de Incredible Years groepstraining en individuele huisbezoeken. De effectiviteit van Betere Start is onderzocht met een gerandomiseerd effectonderzoek. De onderzoeksgroep bestond uit 113 (ex-)gedetineerde moeders die door middel van loting toegewezen werden aan de interventie Betere Start of aan een controlegroep waarin geen interventie plaatsvond. Moeders vulden vragenlijsten in over hun eigen opvoedingsgedrag en de gedragsproblemen bij hun kinderen. Leerkrachten vulden tevens vragenlijsten in over gedragsproblemen bij deze kinderen. Betere Start had effect op zowel het opvoedingsgedrag door moeders als gedragsproblemen bij hun kinderen. De resultaten van Betere Start zijn veelbelovend: er werden op korte termijn substantiële effecten gevonden in een moeilijk te bereiken risicogroep.