Gepubliceerd in: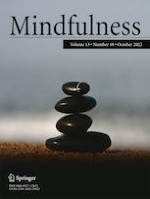 19-08-2022 | REVIEW
Effectiveness of Mobile-Based Mindfulness Interventions in Improving Mindfulness Skills and Psychological Outcomes for Adults: a Systematic Review and Meta-regression
Gepubliceerd in: Mindfulness | Uitgave 10/2022
Log in om toegang te krijgen
Abstract
Objectives
An increasing number of mindfulness interventions are becoming accessible and available through mobile applications. This systematic review aims to synthesize the best evidence available for the effectiveness of the mobile-based mindfulness interventions (mMBIs) in improving mindfulness skills and depressive, anxiety, and stress symptoms among adults.
Methods
Published studies and dissertations indexed by CINAHL, Cochrane Library, Embase, IEEE Xplore, ProQuest, PsycInfo, PubMed, and Scopus were systematically reviewed without time frame restriction. All included studies were randomized control trials with adult participants using mobile-based mindfulness. Using a random-effects model and Hedges'
g
, we performed a meta-analysis with the Stata software and assessed the effect size. Subsequently, we determined whether heterogeneity was a serious concern through chi-square and
I
2
tests.
Results
A total of 22 randomized control trials in 24 articles met the criteria. Meta-analysis revealed statistically significant improvement on mindfulness skills (
g
 = 0.26) and depressive (
g
 =  − 0.21) and stress (
g
 =  − 0.54) symptoms after the mMBIs. Results for anxiety were not significant. Subgroup analyses indicated that the mBMI was more effective using ≥ 8 weeks (
g
 = 0.57) and the waitlist control (
g
 = 0.47).
Conclusions
Mobile-based mindfulness has significantly small to moderate effects on improving mindfulness skills and reducing depressive and stress symptoms for adults in diverse context. It is promising as an effective adjunct intervention for mindfulness skills particularly for individuals with 8 weeks or longer duration of mMBIs. However, caution should be exercised when generalizing results that involve varied contexts, populations, and control conditions.
Protocol registration:
PROSPERO CRD42021234277