Gepubliceerd in: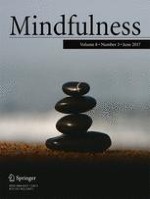 09-08-2016 | ORIGINAL PAPER
Effectiveness of Mindfulness-Based Intervention on Perceived Stress, Anxiety, and Depression Among Parents of Children with Autism Spectrum Disorder
Gepubliceerd in: Mindfulness | Uitgave 3/2017
Log in om toegang te krijgen
Abstract
Parents of children with autism spectrum disorder (ASD) frequently report poor psychological well-being. Previous research has supported mindfulness-based interventions to enhance psychological well-being in parents of children with ASD, but studies about this topic are still rare. The purpose of this study was to examine the effectiveness of brief mindfulness-based intervention (MBI) on perceived stress, anxiety, and depression among parents of children with ASD in Jordan. A quasi-experimental pretest–posttest design with a comparison group was used. A sample of 104 parents of children with ASD has completed the study. Parents were matched on measures of age, gender, and level of severity of ASD in their children based on DSM-V criteria and randomized to one of the two groups. The intervention group participated in 5-week mindfulness-based intervention program, while participants in the comparison group had not attended the program between pretest and posttest measures. Participants in both groups had poor psychological well-being before the intervention program. After the intervention program, the one-way analyses of covariance (ANCOVA) indicated that parents in the intervention group had better outcomes on the measures of psychological well-being and mindfulness than those in the comparison group (
P
 < 0.01). Furthermore, results of paired samples
t
test indicated that parents in the intervention group demonstrated significant improvements in measures of stress, anxiety, depression, and mindfulness scores with medium to large effect size (Cohen
d
between 0.42 and 0.85,
P
< 0.01). Although the comparison group demonstrated small improvement in measures of the dependent variables, these improvements were much less than improvements in the intervention group. The MBIs are culturally adaptable, feasible, and effective interventions to improve psychological well-being in parents of children with ASD.