03-06-2015 | Original Paper | Uitgave 2/2016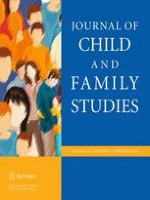 Effectiveness of an Individualized Case Formulation-Based CBT for Non-responding Youths with Anxiety Disorders
Tijdschrift:
Auteurs:

Irene Lundkvist-Houndoumadi, Mikael Thastum, Esben Hougaard
Abstract
The study examined the effectiveness of an individualized case formulation-based cognitive behavior therapy (CBT) for youths (9–17 years) with anxiety disorders and their parents after unsuccessful treatment with a manualized group CBT program (the Cool Kids). Out of 106 participant youths assessed at a 3-month follow-up after manualized CBT, 24 were classified as non-responders on the Clinical Global Impression-Improvement scale (CGI-I), and 14 of 16 non-responders with anxiety as their primary complaint accepted an offer for additional individual family CBT. The treatment was short-term (
M
sessions = 11.14) and based on a revised case formulation that was presented to and agreed upon by the families. At post-treatment, nine youths (64.3 %) were classified as responders on the CGI-I and six (42.9 %) were free of all anxiety diagnoses, while at the 3-month follow-up 11 (78.6 %) had responded to treatment and nine (64.3 %) had remitted from all anxiety diagnoses. Large effect sizes from pre- to post-individualized treatment were found on youths' anxiety symptoms, self-reported (
d
= 1.05) as well as mother-reported (
d
= .81). There was further progress at the 3-month follow-up, while treatment gains remained stable from post-treatment to the 1-year follow-up. Results indicate that non-responders to manualized group CBT for youth anxiety disorders can be helped by additional CBT targeting each family's specific needs.