Gepubliceerd in: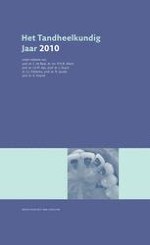 2010 | OriginalPaper | Hoofdstuk
1. Een refl ectie over het gebruik van boormallen in de dentale implantaatchirurgie
Abstract
Het wordt als een axioma beschouwd dat een prothetische planning voorafgaand aan de implantaatplaatsing resulteert in een betere selectie van de implantatieplaatsen en bijgevolg een meer voorspelbaar resultaat zal opleveren van het te vervaardigen prothetisch werk. Meestal worden de volgende voordelen aangehaald om het gebruik van boormallen te verantwoorden: vermijden van kritisch anatomische structuren, een esthetisch meer voorspelbaar resultaat en een functioneel beter resultaat door een prothetisch gestuurde implantaatplaatsing. Om de planning over te brengen naar de chirurgische fase, wordt er vanouds gedacht aan chirurgische boormallen. Naast de boormallen kan er gebruikgemaakt worden van navigatietechnieken om de chirurg te helpen bij de selectie van de boorplaatsen (bijvoorbeeld Rupin et al., 2008). Deze techniek wordt in dit hoofdstuk buiten beschouwing gelaten. Gedurende de afgelopen tien jaar (1989-1999) zien we een sterke toename in de belangstelling voor implantaatbehandeling. Een mogelijke oorzaak is een grotere bewustwording bij patiënten die in aanmerking zouden komen voor een implantaatbehandeling, maar kan ook een gevolg zijn van een toename in het aantal gekwalificeerde zorgverleners (Narby et al., 2008). Gezien de toename van het aantal implantaatbehandelingen, kan het gebruik van een effectieve techniek die het aantal suboptimaal of niet goed geplaatste implantaten vermindert wel degelijk een zinvolle ontwikkeling zijn. Anderzijds moet worden overwogen of de bijkomende straling bij het maken van een röntgenfoto van de patiënt, het werk dat noodzakelijk is om een nauwkeurige boormal te verkrijgen en de kostprijs van dit alles, opwegen tegen de klinische nadelen die een suboptimaal geplaatst implantaat veroorzaakt (Widmann en Bale, 2006). Bovendien zou de implantaatbehandeling gestuurd door boormallen dezelfde succesratio's met betrekking tot osseo-integratie moeten opleveren als de klassieke implantaatchirurgie. Sommige auteurs wijzen erop dat hier de nodige voorzichtigheid moet worden betracht en rapporteren een mislukkingspercentage van 9 (Yong en Moy, 2008). Op dit ogenblik is er nog geen enkele langetermijn klinische studie die deze aspecten heeft geanalyseerd.