01-09-2014 | Uitgave 4/2014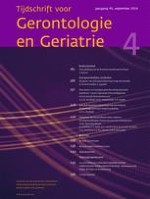 Een gedragsobservatieschaal voor participatie in psychogeriatrische dagbehandeling
Tijdschrift:
Auteur:

H. F. A. Diesfeldt
Belangrijke opmerkingen
Electronic supplementary material
De online versie van dit artikel (doi:
10.​1007/​s12439-014-0080-6
) bevat additioneel materiaal, beschikbaar voor geautoriseerde gebruikers.
A behavioural rating scale of activity engagement in psychogeriatric day care
The Participation Scale was developed as an observational measure of activity engagement (as rated by group facilitators) of adult day care clients with mild to moderate dementia. In a consecutive sample of 448 subjects Mokken scaling procedure was conducted to assess the latent structure of 27 questionnaire items. The study included an exploratory and a confirmatory approach. For that purpose the sample was randomly divided into two halves. Exploratory analysis revealed three dimensions of participation that adequately captured the item structure: motivation (10 items; Loevinger's H = 0.48), competence (7 items; H = 0.56) and self-confidence (4 items; H = 0.57). The structure was validated in a confirmatory analysis. In a stepwise multiple regression model 49% of the variance in motivation was explained by independent behavioural measures of apathy and affect. Apathy and cognitive impairment were significant predictors of competence in participation (R2 = 31.2%). Negative affect was the main predictor of reduced self-confidence (R2 = 37.9%). Cross-validation of these exploratory regression models on the confirmatory sample explained 39.6%, 29.2% and 23.1% of the variance in motivation, competence and self-confidence, respectively. Test-retest intraclass correlation coefficients (ICC2(A,1)) as determined in a random subsample of 56 participants, were 0.77 (motivation), 0.85 (competence) and 0.76 (self-confidence). The three measures allow the differentiation and ordering of individual participants on separate dimensions of activity engagement in psychogeriatric day care.