23-03-2019 | Brief Communication | Uitgave 8/2019 Open Access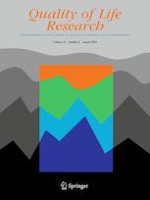 Eculizumab improves fatigue in refractory generalized myasthenia gravis
Tijdschrift:
Auteurs:

Henning Andersen, Renato Mantegazza, Jing Jing Wang, Fanny O'Brien, Kaushik Patra, James F. Howard Jr., The REGAIN Study Group
Belangrijke opmerkingen
Electronic supplementary material
The ​original ​version ​of ​this ​article ​was ​revised due to the retrospective open access order.
A complete list of study group investigators is included in electronic supplementary material.
Publisher's Note
Springer Nature remains neutral with regard to jurisdictional claims in published maps and institutional affiliations.
Abstract
Purpose
To evaluate the effect of eculizumab on perceived fatigue in patients with anti-acetylcholine receptor antibody-positive, refractory, generalized myasthenia gravis (MG) using the Quality of Life in Neurological Disorders (Neuro-QOL) Fatigue subscale, and to evaluate correlations between improvements in Neuro-QOL Fatigue and other clinical endpoints.
Methods
Neuro-QOL Fatigue, MG Activities of Daily Living (MG-ADL), Quantitative MG (QMG), and the 15-item MG Quality of Life (MG-QOL15) scales were administered during the phase 3, randomized, placebo-controlled REGAIN study (eculizumab,
n
 = 62; placebo,
n
 = 63) and subsequent open-label extension (OLE). Data were analyzed using repeated-measures models. Correlations between changes in Neuro-QOL Fatigue and in MG-ADL, QMG, and MG-QOL15 scores were determined at REGAIN week 26.
Results
At REGAIN week 26, eculizumab-treated patients showed significantly greater improvements in Neuro-QOL Fatigue scores than placebo-treated patients (consistent with improvements in MG-ADL, QMG, and MG-QOL15 scores previously reported in REGAIN). Improvements with eculizumab were sustained through OLE week 52. Correlations between Neuro-QOL Fatigue and MG-QOL15, MG-ADL, and QMG scores were strong for eculizumab-treated patients at REGAIN week 26, and strong, moderate, and weak, respectively, for placebo-treated patients.
Conclusions
Compared with placebo, eculizumab was associated with improvements in perceived fatigue that strongly correlated with improvements in MG-specific outcome measures.
Trial ID Registration
: NCT01997229, NCT02301624.