01-02-2011 | Original Article | Uitgave 2/2011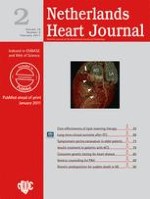 Economic evaluation of ezetimibe combined with simvastatin for the treatment of primary hypercholesterolaemia
Tijdschrift:
Auteurs:

F. van Nooten, G. M. Davies, J. W. Jukema, A. H. Liem, E. Yap, X. H. Hu
Belangrijke opmerkingen
The questions can be answered after the article has been published in print. You have to log in to:
www.​cvoi.​nl
.
Abstract
Objective
This study aims to assess the cost-effectiveness of ezetimibe plus simvastatin (E/S) versus atorvastatin or simvastatin monotherapy as second-line treatment of primary hypercholesterolaemia from the Dutch healthcare perspective.
Methods
The evaluation used a Markov model and patient data from the Dutch EASEGO study in which patients failing to reach goal low-density lipoprotein cholesterol levels on atorvastatin 10 mg or simvastatin 20 mg had their dose doubled or switched to ezetimibe 10 mg plus generic simvastatin 20 mg (E10/S20). The second scenario, based on Dutch guidelines, switched patients from simvastatin 40 mg to atorvastatin 40 mg, or ezetimibe 10 mg was added to simvastatin 40 mg (E10/S40). The key effectiveness input measure was change in total cholesterol/high-density lipoprotein ratio obtained from the EASEGO study. In conformity with published studies linking reduced lipid levels to reduced risk of cardiovascular events, the present model assumed that a lipid decrease with ezetimibe may be a signal for reduced risk of cardiovascular events. Model parameters were derived from published literature. Sensitivity analyses were performed for the key parameters.
Results
In the EASEGO scenario, incremental cost-effectiveness ratio for E10/S20 was €3497/quality-adjusted life-years (QALY) vs atorvastatin 20 mg and €26,417/QALY vs simvastatin 40 mg. In the Dutch guidelines scenario, E10/S40 was dominant (more effective and cost-saving) vs atorvastatin 40 mg. Varying model inputs had limited impact on the cost-effectiveness of E/S.
Conclusions
The analysis showed the cost-effectiveness of E/S versus atorvastatin 20 mg or simvastatin 40 mg (EASEGO scenario) at a threshold of €30,000/QALY and vs atorvastatin 40 mg was dominant (Dutch guidelines). Thus, E/S seems a valuable cost-effective second-line treatment option for patients not attaining lipid treatment goals.