01-10-2017 | Nascholing | Uitgave 10/2017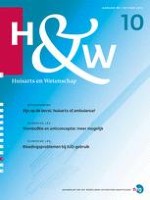 Echografie bij kinderen met buikpijn
Tijdschrift:
Auteurs:

Gea Holtman, Mariken Stegmann, Marjolein Berger
Belangrijke opmerkingen
UMCG, afdeling Huisartsgeneeskunde, Groningen: dr. G.A. Holtman, klinisch epidemioloog; M.E. Stegmann, aioto Huisartsgeneeskunde, prof.dr. M.Y. Berger, hoogleraar Huisartsgeneeskunde
Mogelijke belangenverstrengeling: niets aangegeven.
Samenvatting
Holtman GA, Stegmann ME, Berger MY. Echografie bij kinderen met buikpijn. Huisarts Wet 2017;60(10):523-5.
Echografie is in de tweede lijn een waardevol diagnostisch hulpmiddel bij allerlei aandoeningen en wordt ook in de eerste lijn steeds vaker toegepast. Onduidelijk is nog of dat ook geldt voor kinderen. Bij een kind met buikpijn is een echo door de huisarts niet nuttig; bij zeldzame ernstige aandoeningen heeft snelle verwijzing prioriteit boven een echo. Bij een mogelijke , stomp buiktrauma of obstipatie kan een echo de onzekerheid over de diagnose verkleinen en onnodige verwijzing voorkomen, maar er is nog te weinig bekend over de testkarakteristieken in de eerste lijn om dit te kunnen aanraden.