01-02-2013 | Uitgave 2/2013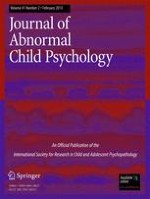 Early Negative Affect Predicts Anxiety, not Autism, in Preschool Boys with Fragile X Syndrome
Tijdschrift:
Auteurs:

Bridgette L. Tonnsen, Patrick S. Malone, Deborah D. Hatton, Jane E. Roberts
Abstract
Children with fragile X syndrome (FXS) face high risk for anxiety disorders, yet no studies have explored FXS as a high-risk sample for investigating early manifestations of anxiety outcomes. Negative affect is one of the most salient predictors of problem behaviors and has been associated with both anxiety and autistic outcomes in clinical and non-clinical pediatric samples. In light of the high comorbidity between autism and anxiety within FXS, the present study investigates the relationship between longitudinal trajectories of negative affect (between 8 and 71 months) and severity of anxiety and autistic outcomes in young males with FXS (
n
 = 25). Multilevel models indicated associations between elevated anxiety and higher fear and sadness, lower soothability, and steeper longitudinal increases in approach. Autistic outcomes were unrelated to negative affect. These findings suggest early negative affect differentially predicts anxiety, not autistic symptoms, within FXS. Future research is warranted to determine the specificity of the relationship between negative affect and anxiety, as well as to explore potential moderators. Characterizing the relationship between early negative affect and anxiety within FXS may inform etiology and treatment considerations specific to children with FXS, as well as lend insight into precursors of anxiety disorders in other clinical groups and community samples.