28-02-2020 | Original Article | Uitgave 5/2020 Open Access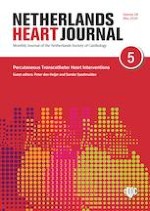 Early mobilisation after transfemoral transcatheter aortic valve implantation: results of the MobiTAVI trial
Tijdschrift:
Auteurs:

J. Vendrik, W. Vlastra, M. S. van Mourik, R. Delewi, M. A. Beijk, J. Lemkes, J. J. Wykrzykowska, R. J. de Winter, J. S. Henriques, J. J. Piek, M. M. Vis, K. T. Koch, J. Baan Jr.
Belangrijke opmerkingen
Electronic supplementary material
Abstract
Background
Immobilisation of patients after transfemoral transcatheter aortic valve implantation (TF-TAVI) is the standard of care, mostly to prevent vascular complications. However, immobilisation may increase post-operative complications such as delirium and infections. In this trial, we determine whether it is feasible and safe to implement early ambulation after TF-TAVI.
Methods
We prospectively included TF-TAVI patients from 2016 to 2018. Patients were assessed for eligibility using our strict safety protocol and were allocated (based on the time at which the procedure ended) to the EARLY or REGULAR group.
Results
A total of 150 patients (49%) were deemed eligible for early mobilisation, of which 73 were allocated to the EARLY group and 77 to the REGULAR group. The overall population had a mean age of 80 years, 48% were male with a Society of Thoracic Surgeons Predicted Risk of Mortality (STS-PROM) score of 3.8 ± 1.8. Time to mobilisation was 4 h 49 min ± 31 min in the EARLY group versus 20 h 7 min ± 3 h 6 min in the REGULAR group (
p
 < 0.0001). There were no differences regarding the primary endpoint. No major vascular complications occurred and a similar incidence of minor vascular complications was seen in both groups (4/73 [5.5%] vs 6/77 [7.8%],
p
 = 0.570). The incidence of the combined secondary endpoint was lower in the EARLY group (
p
 = 0.034), with a numerically lower incidence for all individual outcomes (delirium, infections, pain and unplanned urinary catheter use).
Conclusion
Early mobilisation (ambulation 4–6 h post-procedure) of TF-TAVI patients is feasible and safe. Early ambulation decreases the combined incidence of delirium, infections, pain and unplanned urinary catheter use, and its adoption into contemporary TAVI practice may therefore be beneficial.