01-03-2012 | Original article | Uitgave 3/2012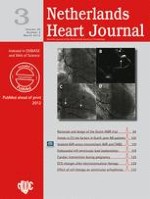 Early mitral valve repair versus watchful waiting in patients with severe asymptomatic organic mitral regurgitation; rationale and design of the Dutch AMR trial, a multicenter, randomised trial
Tijdschrift:
Auteurs:

W. J. Tietge, L. M. de Heer, M. W. J. van Hessen, R. Jansen, M. L. Bots, W. van Gilst, M. Schalij, R. J. M. Klautz, R. B. A. Van den Brink, L. A. Van Herwerden, P. A. Doevendans, S. A. J. Chamuleau, J. Kluin
Belangrijke opmerkingen
W. J. Tietge and L. M. de Heer contributed equally to this manuscript.
Abstract
Background
Asymptomatic severe mitral valve (MV) regurgitation with preserved left ventricular function is a challenging clinical entity as data on the recommended treatment strategy for these patients are scarce and conflicting. For asymptomatic patients, no randomised trial has been performed for objectivising the best treatment strategy.
Methods
The Dutch AMR (Asymptomatic Mitral Regurgitation) trial is a multicenter, prospective, randomised trial comparing early MV repair versus watchful waiting in asymptomatic patients with severe organic MV regurgitation. A total of 250 asymptomatic patients (18–70 years) with preserved left ventricular function will be included. Intervention will be either watchful waiting or MV surgery. Follow-up will be 5 years. Primary outcome measures are all-cause mortality and a composite endpoint of cardiovascular mortality, congestive heart failure, and hospitalisation for non-fatal cardiovascular and cerebrovascular events. Secondary outcome measures are total costs, cost-effectiveness, quality of life, echocardiographic and cardiac magnetic resonance parameters, exercise tests, asymptomatic atrial fibrillation and brain natriuretic peptide levels. Additionally, the complication rate in the surgery group and rate of surgery in the watchful waiting group will be determined.
Implications
The Dutch AMR trial will be the first multicenter randomised trial on this topic. We anticipate that the results of this study are highly needed to elucidate the best treatment strategy and that this may prove to be an international landmark study.