09-12-2016 | Original Article | Uitgave 2/2017 Open Access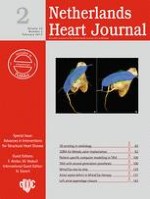 Early experience with the Venus p‑valve for percutaneous pulmonary valve implantation in native outflow tract
Tijdschrift:
Auteurs:

F. Garay, X. Pan, YJ. Zhang, C. Wang, D. Springmuller
Abstract
Introduction
The Venus p‑valve (MedTech, Shanghai, China) is a self-expanding percutaneous heart valve designed to be implanted in a native patched right ventricle outflow tract. The worldwide clinical experience with this valve is just beginning and the results have so far been encouraging. We present our initial early experience implanting the Venus p‑valve in the native right ventricle outflow tract of patients with Tetralogy of Fallot repaired with a transannular patch.
Methods
In 10 selected patients a procedure for percutaneous pulmonary valve implantation was performed using the Venus p‑valve. The patients mean age was 32 years (13–57), mean weight 59.6 kg (40–80). All patients had Tetralogy of Fallot with moderate to severe pulmonary regurgitation and an indication for pulmonary valve replacement.
Results
The implantation procedure was successful in all the patients resulting in an immediately functional valve. No procedure-related complications were observed. Follow-up after 12 months (4–21) resulted in an improvement in NYHA class. There was a reduction of the mean right ventricle diastolic volume from 139 ml/m2 (105–179) to 78 ml/m2 (65–100) and improvement in the regurgitation fraction from 42% (29–58) to 1% (0–5), as seen on routine cardiac magnetic resonance 6 months after the implantation. No stent fractures have been observed so far.
Conclusion
Percutaneous pulmonary valve implantation with the Venus p‑valve resulted in a safe and effective procedure. The valve has predictable and sustained functional competence, resulting in clinical improvement in the patients.